Aslan Leather Pink candy jag - Double strap harness from Aslan Leather

Product Details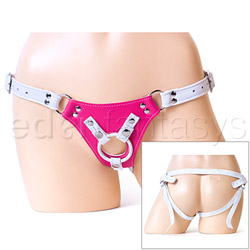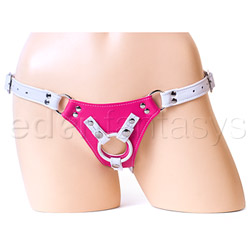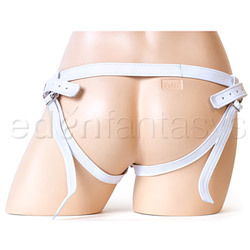 Summary:
The Pink Candy Jag by Aslan may have an innocent name but it means business. Strong leather, sturdy buckles, with a little color fun tossed in the mix make this a great harness for the pink lover in all of us.
Pros:
Leather, pink, interchangeable O Ring.
Best use:
The Pink Candy Jag by Aslan Leather is a stunning, leather, double strap harness. It has a gorgeous, dark pink front panel and white straps. The pink and white colors make it fun while the strong, smooth, delicious smelling leather makes it serious. It can be used by anyone from the beginner to strap on play to the most advanced.
Being that it is very minimal, it could easily be taken along in a suitcase for fun on the road but be aware that the metal bits are sure to set something off at the airport.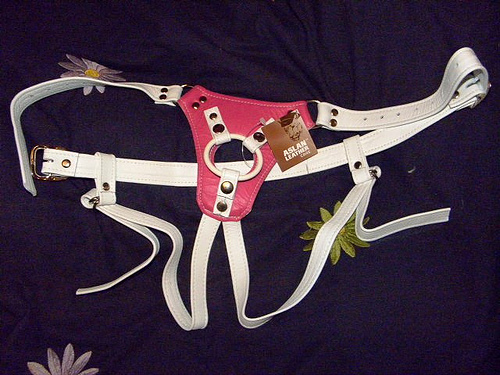 Material:

The leather this harness is made from is amazing. So soft and supple, it feels incredible while in use. It easily conforms to one's body and fits like a glove.

The dark pink leather of the front panel is reinforced with white stitching which really makes it pop. This same white stitching follows throughout the entire harness into the white straps.

It comes with a 2 inch, white rubber O ring that can be exchanged out for a bigger or smaller one if need be.

Aslan always backs their products so they guarantee them for life (with normal use).

Material:

Leather

Material safety

Design / Craftsmanship:

This is a double strap harness meaning it has 2 back straps for better control when in use. The straps also allow for the wearer to get in on the action because part of the genitals are exposed. The harness sits low on the hips so that, in turn, the dildo sits at a more natural position against the body. The buckles are a little large and would be very visible through tight pants. If one was to wear it under a pair of loose pants though, it would be very hard to tell it was there.

The front panel has a permanent, double stitched, 1.5 inch cut out for a dildo but it also comes with a 2 inch O ring that is held securely in place by 3 snaps. This can be changed out to accommodate a larger variety of toys.

All the metal grommets are secure. It has some heavy duty D rings holding it all together and some small, doubled, D rings at the back for easy adjusting.



Size / Fit:

Although this harness is listed as fitting up to 42 inches, my hips are 44 and it fit me with enough room to secure the buckles. The smallest size it will fit is 28 inches. If you find you are on the smaller end of the size spectrum, you can trim away some of the excess strap so that it is not hanging in the way during use.

The back straps can be adjusted by pulling the hanging length of the strap to a comfortable fit. Once you have it in place it will not come loose. The double D rings do a great job of keeping those straps securely in place.



Size:

One size fits most

Maximum hip size:

42"

Dildo holder diameter:

2"

Weight:

0.5 lb

Performance:

This harness is very easy to wear. The double D rings on the back straps make adjustment easy: give the strap a quick tug to where you want it and you are done. The leather is so soft that it makes it very comfortable to wear and it also makes it easy to adjust the buckles.

Once you have the buckles at the right place for you, it is easy to slide in and out of by simply undoing one side of the buckle and stepping out, or in.

The snaps are strong and hold a dildo with base in place very well.

Special Features:

Interchangeable ring
Premium

Care and Maintenance:

You can care for your leather harness by washing it down with a damp cloth. If needed, a bit of mild soap or leather cleaner can be used as well. Be sure that the harness is completely dry before storing. You should store your leather harness in a cool, dark place and not somewhere that is damp to keep the leather in tip top shape forever. Do not use your leather harness in the tub or shower. To prevent any rusting on the metal grommets, buckles or D rings, you can coat them with a thin layer of clear nail polish.

Other

Texture:

Smooth

Safety features:

Phthalates free