Pretty Pink Candy
Pink Candy Jag is a cute real leather harness. It's very sturdy and well made and should last for a long time if cared for properly. Jag fits comfortably during use, without any binding or rubbing on bare skin. The material feels soft and smooth. The O-ring is also removable, making this easy to use with a variety of toys. Unfortunately, Jag can only fit up to a 46 inch hip.
Published:
Pros:
color, quality material, comfortable fit, sturdy, easy to adjust, soft
Cons:
only accommodates up to 46 inch hips, may be difficult to care for
For my first harness, I wanted to pick something cute, sturdy, and easy to wear. I decided on the Pink Candy Jag, since I loved the white and pink color combination. I'm glad I did, since this is exactly what I was expecting.
Jag comes packaged in a simple cellophane plastic bag. There is a hang tag attached. The front of it displays ASLAN Leather and a picture of a lion or other big cat wearing a hat. The inside includes information on cleaning the harness and keeping it brand-new looking. I will get into this information in a bit. There's also a guarantee for life, stating that if the harness breaks during normal wear or is defective, ASLAN Leather will repair or replace it. The back lists the web site (www.aslanleather.com) and phone number (1-877-467-1526) for the company.
The harness itself is pretty simple in design. It's all made out of real leather, which feels very smooth and soft to the touch. All of the metal pieces look like stainless steel, but the tag says they may tarnish, so they are just plain metal. The front features a pink triangle of leather with the O-ring in the middle. This measures about 5 1/2 inches tall, with all sides also measuring about 5 1/2 inches long. This is stitched together with white thread, which is also used on the white straps. The O-ring is exactly in the middle of the harness and measures 2 inches in diameter. Surrounding it is a set of three white leather straps that hold on a rubber ring with metal snaps. These straps are attached to the pink section by rivets. The ring is a tiny bit stretchy, but not very much. It can be taken out and replaced with a ring of another size, if needed.
On the sides of the front section is two D-rings. Looped through these is the hip strap. This loops all the way around the back of the hips. This strap measures an inch high. Along this, there are 12 holes on each side and a buckle that adjusts the fit, basically like a belt. The closer the buckle is to the D-rings, the tighter the harness is. The hip strap is attached to the D-rings, buckles, and front section with rivets as well. This strap can be loosened to a maximum of 46 inches around, down to a minimum of 30 inches around.
Attached to the bottom of the front is the height adjusting straps. These run through the crotch area of the harness up to the back of the hip strap. There, they are attached to the hip strap by rivets. Each of the two straps measures about 1/2 inch wide. These straps adjust the height, and this is done through two sets of D-rings on the back of the harness. I am able to get this to a maximum height of 24 inches, which goes from the top of the harness on the front down through the crotch and up the back to the hip straps. This is capable of doing down to a minimum of 12 inches.
Jag fits pretty comfortably. When I am wearing this, I don't feel any leather biting into my skin. The edges of the leather are all nicely rounded, so they sit on skin without irritating it at all. Both sides of the leather are also finished, so there isn't any rough feeling against skin. I feel the buckles are easy to work with, as are the D-rings in the back. I leave one side buckled, unbuckle the other side, and step into the harness from that side. I then adjust the D-rings in the back once I have both sides buckled. I prefer to wear this on my hips. It feels more comfortable to me, but this can be adjusted to sit at the waist, if that is preferred. I buckle mine at the 5th hole away from the front section. My hips are about 36 inches around and this sets the harness at 36 inches around, allowing this to sit comfortably and snugly on my hips. The double straps going up through the crotch can be a little uncomfortable, but not all too much different from wearing a thong. I prefer to wear a pair of panties under this to help keep it a little more comfortable and clean. I have a feeling that if I were to just put the harness on, I'd have the straps wedged up where I don't want them. When I have this on, there is a good amount of the straps hanging down the back and sides. This can be trimmed to remove it, but I chose not to.
Front: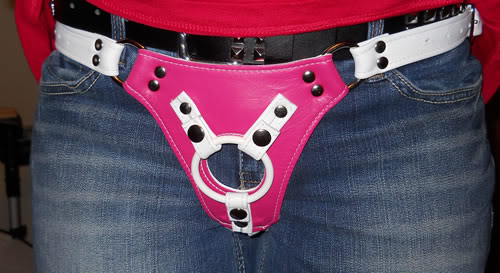 Back: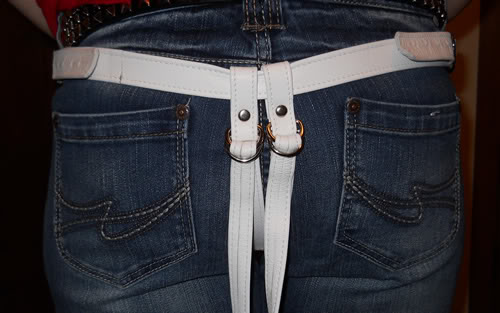 **Continued in Experience**
Experience
The O-ring is pretty easy to use. Simply slide your strap-on toy through the back and the rubber ring to secure it in place. I tried this with a few dildos, all of which worked great except for one. I purchased the
Tantus Acute
just for the purpose of using with this harness. The base of that toy is more oval than round, so it ends up slipping through the round opening in the harness quite easily. Every other toy I used had a perfectly round base and did not slip through. This isn't really a downside to this harness, but more of a downside to Acute.
During use, this sits comfortably and allows for easy penetration. Once it is buckled, it stays put pretty well. My toys were held steady by the O-ring, regardless of how I was moving my body. I chose to use this harness with toys anally on my fiancé. Getting the movements right took a little getting used to, but he says I did great.
Caring for this is extremely important, since proper care extends the life of the harness. Jag can be cleaned with a moist cloth and either leather cleaner or a mild dish soap. Excess soap should be wiped off with the moist cloth. Jag must be patted dry with a soft cloth immediately, making sure to get all of the moisture out of the folds and crevices. This should be stored in a cool, dry place away from direct heat and light. You should never immerse any leather product in water. Never hang this up to drip-dry, always make sure you gently wipe it dry after cleaning, as the leather could warp, crack, or start to disintegrate. If the leather appears dry, it should be conditioned with a leather conditioner to keep it soft. The hang tag recommends applying a coat of clear nail polish to the rivets to keep them tarnish-free. Jag does have a light leather scent to it, but it is not noticeable unless I stick the harness right under my nose. This scent hasn't really faded with cleaning.
I store my harness in my closet. I don't fold it up or anything, I just pretty much lay it down with the front on top. Folding it may bend it out of shape. Jag may not be an easy choice for travel, since it's got quite a bit of metal in it.
I definitely recommend Jag to anyone interested in strap on play. It is comfortable, easy to use, and also pretty sturdy. I feel both beginners and advanced users will enjoy it. The leather is soft and cute colored. The removable O-ring allows for a variety of toys to be used with Jag. The only downside I can see is the size, which doesn't fit a wide variety of people.
Follow-up commentary
4 months after original review
This was my first, and so far, only harness. I absolutely love it. It's worked great with all of my toys so far and feels very comfortable when I put it on. I do wish they made sized harnesses, though. I'm on the smaller end of sizes that fit in this harness, so I have some extra straps that hang off the back over my butt. It seems like it would be wrong to cut them off, though.
This product was provided free of charge to the reviewer. This review is in compliance with the FTC guidelines.

Thank you for viewing
Pink candy jag
– double strap harness review page!