Aslan Leather Pink candy jaguar cuffs - Wrist cuffs from Aslan Leather

Pink candy jaguar cuffs videos
Product Details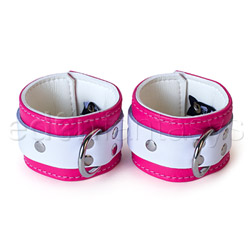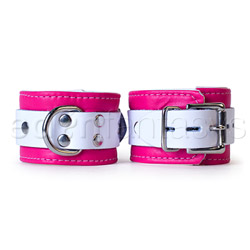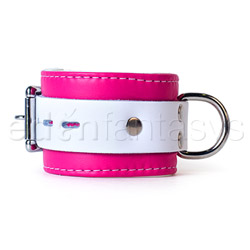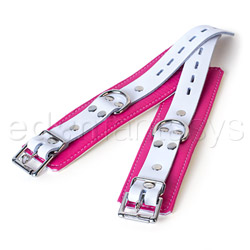 Summary:
Things are about to get hot! Hot pink that is, when you find yourself restrained in Aslan Leather's Pink Jaguar Cuffs. Although they don't have the softest lining, they don't have the roughest either, and besides, bondage isn't supposed to be a walk in the park! Once the action gets going, who's going to notice? They are meant to keep the wearer put, and they will!
Pros:
Heavy duty, leather, quality construction, easy care.
Cons:
Expensive, lining is average in terms of comfort.
Best use:
You'll look pretty in pink with this heavy duty pair of adjustable wrist restraints as you prepare yourself to submit to the whims of your lover. It's just one of three coordinating pieces that make up the Pink Candy Jaguar bondage collection from Canadian manufacturer, Aslan Leather. Only an experienced and/or serious user would enjoy having these in her/his collection, as they are very expensive and will ensure there's no easy escape.
Design / Craftsmanship / Material / Size / Fit:

The 2-inch wide, 9-inch long, and 3/16 of an inch-thick restraints are made up of several materials, the primary being leather which makes up the white adjustment strap and the pink side of the cuff. The opposite white side of the cuff(to which the pink leather is sewn) that rests against the skin is a vegan/synthetic leather. It's not necessarily silky smooth, but it's not sandpaper rough either. The predominant smell of leather is a given.

The white leather strap has 6 adjustment notches and nickel-plated hardware attach it to the pink cuff. Large D-rings on both restraints allow for rope, locks, or whatever device of choice to force the wearer into submission. The prong portion of the buckle is rounded to fit in to the longer, rectangular notches. All stitching throughout is consistent and tight.

There's no doubt these were built to last and to withstand some intense play sessions. They are a O/S fits most, which should work for most adult users. Depending on the size of one's wrist, a portion of the pink cuff may have to be tucked under the other side, which is normal with this wraparound style.

Material:

Leather

Material safety

Color:

Pink / White

Length:

12"

Width:

2"

Closure:

Buckle

Hook style:

O-ring

Weight:

0.4 lb

Performance:

It is possible to put them by oneself or have a partner do it. Once restrained and bound though, there is no easy way to get them off without the help of someone else. Right out of the package, they are stiff and will require a breaking-in period in order for them to become somewhat more pliable. The vegan imitation leather probably won't stretch and soften as much as the leather. Any extensive twisting of the wrists and writhing around may induce some chafing. Unlike some lightweight novelty, mild play restraints, these are thick and induce a feeling of "There's no way I'm not going anywhere!"

Care and Maintenance:

These can be wiped off with a damp cloth then left to dry. Leather conditioning is recommended if the material should become dry and cracked. Keep out of direct sunlight and heat. Aslan offers a Lifetime Guarantee on normal wear & tear (repair or replacement) on their products.

Packaging:

If you want to surprise your partner with some pretty packaging, you'll have to do it yourself because these come in a simple Ziploc bag, which can be saved to for storage or for travel.

Experience:

I'm not much of one to be tied down, so I used them on my partner instead. He was unable to free himself once I had him bound the back of the chair. He did say they were bearable and that they rubbed a little, but he really wasn't expecting the experience to be 100% comfortable anyhow since bondage isn't supposed to be.

Other

Size:

One size fits most

Lining:

Leather

Texture:

Smooth

Fits up to:

8"

Safety features:

Phthalates free