California Exotic Posh silicone O balls - Vaginal balls from California Exotic

Posh silicone O balls videos
Product Details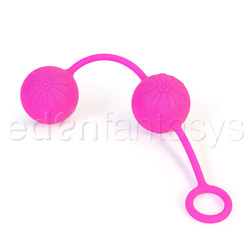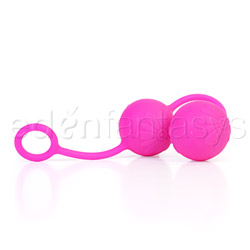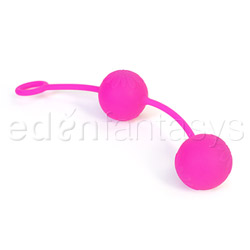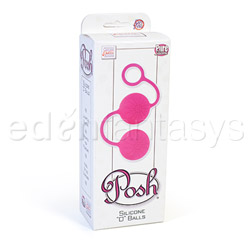 Summary:
These weighted kegel balls are worth trying, especially for beginners. They are an easy way to introduce yourself to kegel balls because they are incredibly easy to use!
Pros:
Easy to use
Easy to clean
Great for beginners
Best use:
The Posh Silicone "O" Balls from California Exotic Novelties are weighted kegel styled exercisers. They are very easy to use, you just slide the balls inside your vagina. There are a few different exercises you can do with them. The most basic exercise is to just squeeze your kegel muscles while the balls are in. For easier insertion, you can apply some lubrication that is safe to use with silicone. The retrieval cord is used for removal when you're finished using them.

One improvement the California Exotic Novelties has made, compared to other similar kegel balls they offer, such as the First Time Love Balls or Duotone orgasm balls; is that the Posh Silicone "O" Balls do not have any rough joints or angles on them. The balls and cord are seamless, which is more comfortable and easy to clean than if the cord was made of a different material. This probably has to do with the fact that it is silicone.
Material / Texture:

The Posh "O" Balls are very soft and velvety. As I mentioned before, the cord is made of silicone, just like the balls. There is a pattern on the balls- a flower- which is slightly raised, but is unnoticeable when inserted. The balls themselves are very durable- when I try to squeeze them they do not press in at all.


Material:

Silicone

Material safety

Texture:

Smooth

Safety features:

Anti-bacterial property / Food-grade material / Hypo-allergenic / Latex free / Non-porous / Phthalates free

Design / Shape / Size:

The Posh "O" Balls have two weighted balls connected by a cord and there is a cord on the end with a loop which allows for easy retrieval. The loop at the end has all smooth surfaces, which is different than the California Exotic Novelties "First Time Love Balls", which appear to have a sharp plastic ridge on the retrieval cord.



The cord in between the balls is also smooth and continuous with the balls, which made insertion and retrieval very comfortable. These smooth edges also made cleaning easy and worry free!



As a beginner, I found these to be a comfortable introduction to weighted kegel exercisers. These fit inside of me with the help of some lubricant. I noticed that they were in, so I feel that the weight was appropriate for me. I weighed these at 3oz. The ball diameter is 1 3/8 inches. The cord between the balls is 2 ¼ inches. The retrieval cord is 2 7/8 inches to the end of the loop.



Length:

7"

Insertable length:

7"

Circumference:

4 3/4"

Diameter:

1 1/2"

Weight:

2.8 oz

Performance:

I found these to be great for a beginner. They were soft and a good size. The balls rattle a little bit, which is a fun feature. The retrieval cord at the end was short enough that they were not uncomfortable when I walked around. I didn't feel worried that they would become lost inside of me. The only thing that made me uncomfortable was when I was removing them, I had to pull a bit to get them out, but I just took it slow and they popped out. I wasn't worried that the cord would break, but it was an interesting sensation the first time to have something like that pop out!

Care and Maintenance:

Cleaning is very easy with the Posh "O" Balls. I used my silicone toy cleaner to wash these right after use, but I suppose you could use soap and warm water. They are very easy to dry with a clean cloth. The smooth edges make cleaning easy compared to other kegel exercise balls.

Care and cleaning:

Bleachable / Soap and water

Packaging:

The Posh "O" Balls come in a box. Within the box, the balls are packaged in a plastic bag. The box measures 2.25 x 3 x 7 inches. I like the printed designs on the box, but honestly the box is too big for the way they package it. The balls are just in a bag and really only take up a quarter of the box. I guess the length of the box is more suggestive for the true length of the balls and cords.


Personal comments:

Overall, I highly recommend these for beginners who are interested in a weighted kegel ball. These are fun, easy to use, and they come in a few exciting colors.