Posh indeed...
Over all, I really do like these. They are weighted perfectly, they're made of 100% silicone, and they come in a few different colors, each with their own little design. The only concern is that these may be a bit too big for those who are built on the smaller side, but as long as you know your body and what it can handle, these are perfect.
Published:
Pros:
Perfectly weighted
Pull string
Silicone
Cons:
The balls may be a bit big for some people
These are my very first vaginal ball exercisers! I started my search about 2 years ago, but all I could find were the traditional ben wa balls, and I never liked the idea of the balls just floating around inside me without an easy way to get them out. I later found some with strings, but the strings all looked so cheap and easy to break, and once again I feared the thought of having to explain that at the ER. Eventually, I gave up hope... Until about a month ago. I was just browsing the site when I stumbled upon this gem, and when I read into the details, I jumped at the opportunity and have never regretted it!
The balls are a solid material and are thickly coated with 100% silicone, which ranks at a 10 on the material safety scale. The "string" connecting the balls is also made from silicone, and is all one solid form. A nice feature included is a little ring at the end of the pull string, making removal very easy. There's no smell to it at all, either.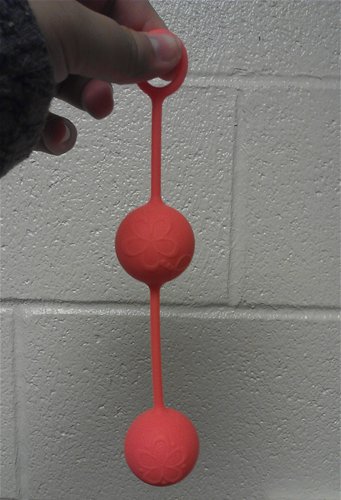 As you can see, I got the orange set (at the time, that's all that was there.) I'm not a fan of anything orange, but don't let the photos fool you, the color is more of a neon, salmon type color. Each ball also has a cute design on it. In the orange model's case, it has a sweet, little flower. The design doesn't do anything as far as added sensations, but it does add a cute flair to it.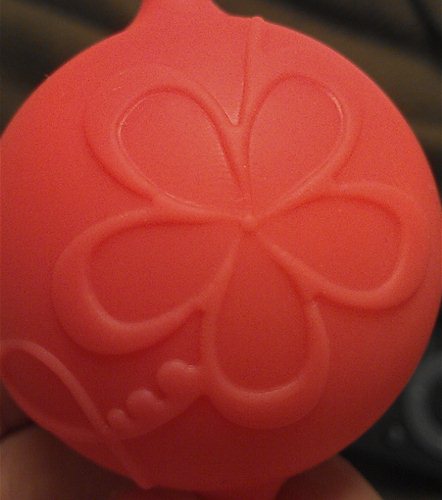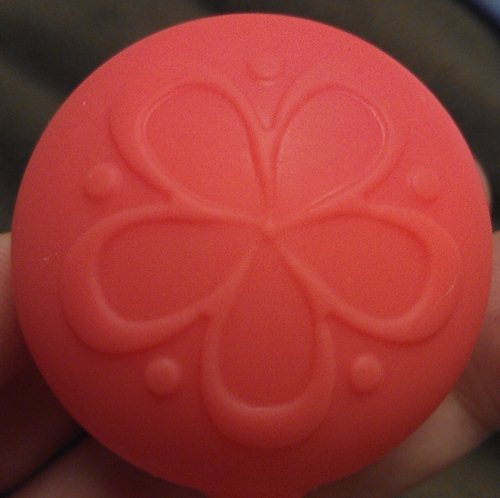 I do have to admit, the size was a bit of a surprise. I knew my body could handle it, but I'm sure there are people built a bit smaller who will have a bit of difficulty with these. Pulling them out was a very interesting sensation... but make sure you go slowly when removing them, you don't want to hurt yourself! The weight inside makes a little rattling sound, but once inserted, you can't hear it, so feel free to wear these outside closed doors.
Cleaning is very simple, just use mild soap and water. As for storage, make sure you keep these away from other silicone toys, as they will degrade eachother.
Experience
There is one thing that I have to recommend; use a water-based lubricant. I found that it was very difficult to insert them, even though the silicone is very soft and smooth. Once I used the lube, things went much smoother, no pun intended. DO NOT USE A SILICONE LUBRICANT WITH THIS TOY. Silicone on silicone contact can destroy the toy, which is why you can't even store silicone toys together without something keeping them separated. Not sure if your lubricant choice is silicone safe? Just test it out on an inconspicuous area that won't be going inside of you, like the pull string. If there is going to be a reaction, it will happen in only a few seconds. No reaction? Then it's safe!
This content is the opinion of the submitting contributor and is not endorsed by EdenFantasys.com

Thank you for viewing
Posh silicone O balls
– vaginal balls review page!