Sportsheets Rouge latex whip - Whip from Sportsheets

Product Details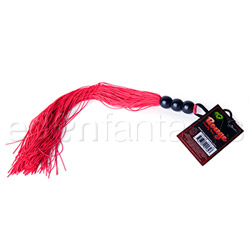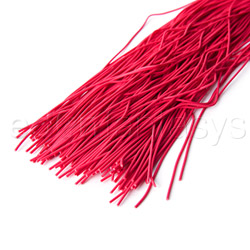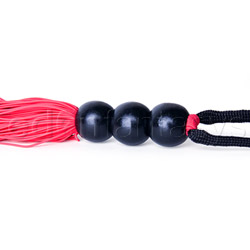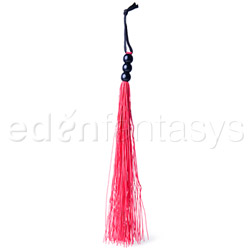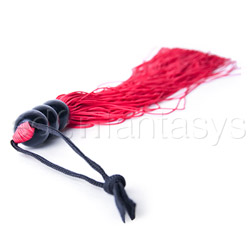 Summary:
Though the Rouge cannot produce the large surface dull thump of my favorite leather flogger it can give a surprisingly intense thump, albeit in a smaller area, that finishes with a slight sting. This sting intensifies the longer it is used even with minimal force making this perfect for longer floggings and play parties. It can also feel like it is stripping the skin off your backside, if that is more to your liking!
Pros:
Nice solid feel to the strike, well balanced for a smaller hand and a larger one, easy to clean.
Cons:
Natural rubber may cause a reaction in players with a latex sensitivity.
Best use:
Though labeled as a latex whip, the Rouge by Sportsheets is a natural rubber flogger. It is also a very nice, well made and well balanced flogger! It is perfect for a light flogging and delivers quite a sting. It is also great for sensitizing the skin and more sensual play. We enjoyed running the falls over the skin after a flogging just for the sensation.

The falls can be directed to land all together which produces a dull thump with a light sting or the user can strike their intended victim with just the tips of the strands which will produce quite an intense stinging and can even leave a nice welt.

The handle of the toy is fairly short but fits my medium sized hand and Arch's larger hand equally well. We were able to direct the falls to exactly where we wanted them but were surprised at the amount of sting these babies were capable of producing. I would recommend this toy to a moderately advanced user and caution the newer player to test the flogger on their own skin first to determine the optimal amount of force before using it on a partner. Practicing your swing on a bathroom towel will lead to much happier play!
Design / Craftsmanship / Size / Material / Features:

The Rouge flogger is composed of wooden beads and natural rubber falls. The card that comes attached to the handle warns that this flogger could excite a latex allergy. The Rouge is cruelty free and is pure vegan friendly. All cruelty will be up to the user!

This flogger's falls are made of thin natural rubber strands that are doubled over and threaded through a handle composed of three wooden balls. The nylon 'hanger' holds the doubled over strands secure and the beads give the feeling of stability. The beads do not slip or slide around and they provide the balance for the flogger.

The falls are bright red and 11 inches long, which is just long enough to give a dull thudding blow or a stinging one depending on the user's designs. They are made of thin rubber that will leave a nice welt, if you use enough force.

The falls can build up a static charge and then stand out from each other in a 'Weird Science' sort of way. I have found that a spritz of cold water or a dryer sheet held in the palm of the hand and run over the falls can remove the charge. I do this before putting the flogger away and it keeps the falls from getting knotted.

The falls smell like rubber bands or latex balloons so for the latex fetishists this is a LOVELY item.

This is a solidly constructed little flogger and should hold up to even the most rigorous flogging. With minimal care it should remain relatively straight and useable for many years.

Material:

Latex

/

Plastic

Material safety

Color:

Red

Length:

13 1/2"

Width:

1"

Weight:

1.5 oz

Performance:

For such an inexpensive flogger you really get your money's worth. This baby can be twirled easily and can be used to execute some of the more advanced techniques for flogging. We did notice a tendency to build up a static charge during play but a spritz of cold water seemed to do the trick and added a dull thump to the falls until they dried. Use caution when trying this technique as it is easy to miss exactly how hard you are striking the skin while the falls are wet. It is better for the less experienced user to have a dryer sheet handy to run gently over the strands.

The flogger worked equally well for more precision strikes, such as striking the nipples, and for broader surfaces, such as the buttocks and shoulders. It can deliver a solid thump with a bit of a stinging finish or it can take your breath way with a sting that is sharp and biting. It all depends on the user.

To be honest I had a low opinion of the toy when I first began to handle it. It smelled like a rubber balloon and looked thin. The handle seemed to be almost non-existent. When I untangled the falls and began to swing the flogger my opinion started to change. After a thorough "testing" and a deliciously sore bottom I realized that this is probably the most versatile flogger I own. It can be soft and teasing or it can be mean and brutal, the decision is yours to make!

Although I am not sold on the static buildup, latex smell, and the tangling falls I really do like the feel of this flogger both as the recipient and the user. I will be trying more rubber type floggers in the future to see if they live up to this flogger's standard.

Care and Maintenance:

Rubber should be stored out of direct sunlight and in a cool dry area.

The falls on this toy can tangle easily so, if possible, store the toy with the falls hanging straight. If this isn't possible then gently gather and loosely twist the strands and store in a small container.

Though the beads are wooden it is possible to wash the entire flogger in warm, not hot, water with anti-bacterial soap. Allow the flogger to drip dry after shaking the strands lightly and toweling off the handle.

The strands are fairly delicate in the same manner that thin rubber bands are delicate so be sure not to stretch the individual strands too much. I love to comb my floggers with my fingers but I noticed that some of the strands on this flogger were stretching out and it was ruining the overall look of the toy. A quick trim solved the problem but I leave the combing to my leather and PVC floggers now.

Lots of oils will break down rubber so if you love to combine a good flogging with a nice massage be sure to flog before massaging!

With minimal care this little flogger should last a good long time. For the price that's not at all a bad deal.

Packaging:

The flogger was packaged in a simple plastic sleeve and had only a thin cardboard tag on the nylon handle. It doesn't lend itself to storing the flogger though you could do so if you were strapped for space.

The cardboard tag has a clear sticker on the back that warns that this product contains latex.

Personal comments:

I was really prepared to dislike this flogger, after all my favorite floggers are heavy, huge and almost always made of leather! I didn't think a rubber flogger that costs less than $10 was going to measure up, frankly. I was wrong and it was Arch's pleasure to show me the error in my thinking! Not only does this little flogger deliver a solid thump it does it with a stinging finish that I found intoxicating.

I loved the delicate lines and welts it left on my skin and tracing his welts with my tongue was an experience to remember!

In the end I am excited to try other rubber floggers which is a pretty great recommendation from a leather flogger snob!

Other

Special Features:

Safety features:

Food-grade material / Hypo-allergenic / Latex free / Phthalates free