Sportsheets Sex and Mischief beaded flogger - Whip from Sportsheets

Sex and Mischief beaded flogger videos
Product Details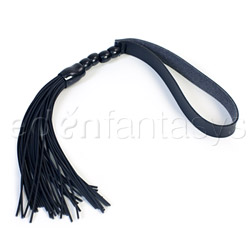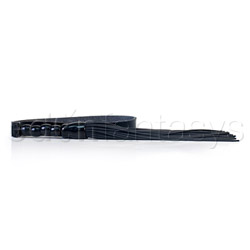 Summary:
Bend over baby: it's time to turn that bottom red! Fetishists wanting to add a little "sex & mischief" to the bedroom might want to pick up this cute little latex strand flogger from Sportsheets. Its small size makes it convenient for travel. Leaning on the gentler side of flogging, this is an ideal toy for beginners looking to explore the world of BDSM.
Pros:
Inexpensive, gentle.
Cons:
Latex allergy warning, edges of wrist strap are sharp.
Best use:
The Sex & Mischief Beaded Flogger from Sportsheets makes a nice introductory implement for teasing and BDSM play, whether for beginners or for advanced users looking to expand their collection. Its non-threatening appearance will certainly elicit a few *gasps* and produce some mild stings, but it won't leave any serious marks or welts on the skin when used properly. Besides, any experienced BDSM'er should know where and how to flog or spank, without doing any harm.

WARNING: Those with latex allergies should not use this item.
Design / Craftsmanship / Size / Material / Features:

The entire flogger measures approximately 16 inches inches long, with a 6.5 inch long handle made of a synthetic leather-looking material, followed by a 1-3/4 inch section of 4 wood beads - hence the name "beaded flogger" - followed by a rubber (or latex) ferrule containing roughly 40 latex strands, all measuring 6.5 inches in length. The "sting" comes from the drag and snap of the latex against bare skin. Generally, thinner strands of latex produce more sting, whilst the wider ones are more gentle and are less prone to tangling. These strands have a diameter similar to regular spaghetti noodles, and don't hurt as much as thinner strands that are more like angel-hair pasta.

This item is very lightweight, and the wrist-strap will secure it from flying away during use. The edges of the wrist-strap are a bit sharp, and may or may not soften over time as real leather would. There is minimal stitching where the strap attaches to the beaded section. Overall, the materials are not expensive, but it is generally well-made.

Material:

Rubber

Material safety

Color:

Black

Length:

15"

Width:

1/2"

Weight:

0.2 lb

Performance:

This is good for light teasing, especially for exploratory play with BDSM. After all, there's no use investing in a more expensive piece if the recipient isn't enjoying it. This one inflicts light stinging and leaves little to no marks on even the most sensitive skin. The sound it makes hitting the skin is no more than a light "swish" or "slap".

Care and Maintenance:

This takes up very little space, fitting easily in to a quart-sized Ziploc bag or smaller. Should it be exposed to any fluids, it can be rinsed off or wiped down with a wet rag and left to air dry.

Packaging:

This did not come in any packaging other than a plastic bag and the product tag.

Experience:

I was able to compare this flogger to another latex strand one that I own. As mentioned, the thinner strands produced more of a sting than the ones on the Sex & Mischief Beaded Flogger. I had my partner swat my tush for a good 20 strokes with this one, and it barely left a mark on my very sensitive, white bottom. Yes, there was a slight stinging sensation, but not enough to make me wince.

Holding the flogger:

Inside material of wrist-strap:


The Beaded Portion:


Left is leather ("OWWW!") , middle is very thin latex ("ouch!"), right is Sex & Mischief ("oh, that's all?"):


Other