Sportsheets Sex and Mischief blindfold - Blindfold from Sportsheets

Product Details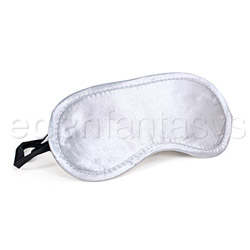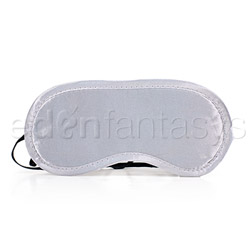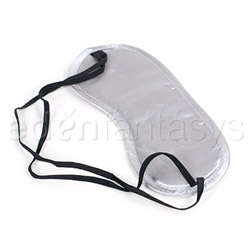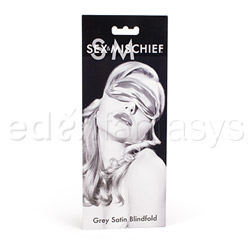 Summary:
The Satin Blindfold from Sex & Mischief is lightweight, durable, and padded for comfort. It is very discreet looking and, to the normal eye, it would appear to be just a sleep mask. While it does not completely keep out light, it does very well at blocking sight.
Pros:
Light weight, satin feel, soft, can fit any size head, easy to put on and clean.
Cons:
A little light comes through the sides of your nose.
Best use:
Using blindfolds in the bedroom is an easy and light way to introduce sensory play. The concept is that by removing visual stimulation, your other senses will be stronger, and thus produce a more erotic experience. Not being able to see heightens the anticipation for what is coming next, while not being seen can reduce inhibitions.

Due to its discreet look, the alternate, less than erotic use for this blindfold is as a sleep mask. It will keep the light out of your eyes if your partner wakes before you or on days you simply want to sleep beyond daybreak.
Design / Craftsmanship / Material / Size / Fit:

The Grey Satin Blindfold is made of a silky smooth polyester, wrapped around a thin layer of polyurethane foam, making it incredibly comfortable to wear. It is 1/8" thick and is 7 1/4" long. It does a very good job at blindfolding, aside from the small triangles of light that are allowed in where the nose bridge meets the person's nose. On me, these little triangles are not big enough to see through, but those with larger noses may be able to actually see through them.

This blindfold stays on with two thin elastic bands that wrap around the wearer's head. The blindfold having two bands makes use even easier. You can place one strap above and one below the wearer's ears, which will prevent the blindfold from being able to wiggle. These elastic straps are 14" long at rest and can be stretched to significantly longer.


Material:

Satin

Color:

Grey

Weight:

0.2 lb

Performance:

This blindfold is very light and can hardly be felt when wearing. The silver portion is very smooth and feels good on your skin, not scratchy or pokey in the least. Its comfortable wear is another reason I suggest this for a sleep mask.

The two elastic bands make this blindfold easy to put on and keep in place with little effort. For best results, I have found that one band above and one below the wearer's ear give the blindfold the best grip of their head. The bands are very stretchy, and they are so thin that they are never painfully tight. For this reason, I recommend this blindfold for those out there with large heads who have had issues with blindfolds in the past.


I see this blindfold lasting a very long time. You would really have to be trying to harm this blindfold to hurt it. All of the stitching on the front and back of the silver, eye covering portion, is well done and secure. The elastic straps also have secure stitching attaching them to the front portion.

Care and Maintenance:

If you should happen to ever get anything on this mask, cleanup is fairly simple. I recommend using a damp cloth to wipe away any blemishes. I recommend against putting this mask into your washer or dryer. It is not intended to hold up under that kind of distress and might not come out intact. Also, since this mask is padded, the inner padding may get dislodged in a washer setting and make the mask appear bumpy.

Due to this mask's size and quality, I believe it can be store anywhere. If you are worried about tossing it loosely into your toy box, I recommend placing it in a plastic baggy. A plastic bag will provide a barrier from the mask rubbing against your toys, while at the same time protecting your mask from any lube spills that may occur.

Packaging:

This mask comes to you in a thick envelope. The front panel has an image of a woman wearing the mask under the brand name "Sex & Mischief". The bottom of this panel tells you the contents, a "Gray Satin Blindfold". The rear panel of the envelope has the company website, a smartphone scanner code, and a sexy story about someone being blindfolded and the anticipation it brings them.



The back panel opens just as an envelope would. You blindfold is loose inside the envelope. This envelope is recyclable and should be set out as such.