Sportsheets Sex and Mischief faux leather flogger - Whip from Sportsheets

Sex and Mischief faux leather flogger videos
Product Details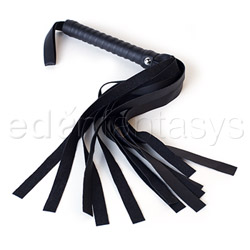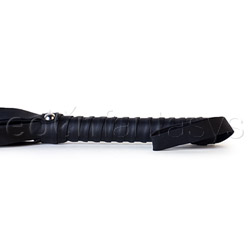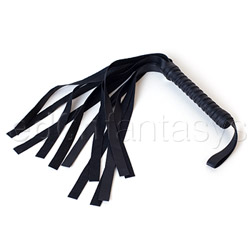 Summary:
Thinking of entering the world of impact play? Then this product is for you! It's well balanced and does not tangle on itself, making it a great first flogger for someone to practice their technique to perfection. The licks from the falls are deliciously painful and the sensation can be felt for several moments after each strike. It's also a great compliment to one of the many "authority figure" costumes on the market today.
Pros:
Perfect for Beginners
Cons:
Might Be Too Light for Experienced Players
Best use:
Floggers, in general, are designed for impact play. You don't have to be an expert in BDSM to get into impact play; but, there are several things you need to know about using floggers before you jump right in. These are things that are mostly learned from talking with others and your partner to figure out the best method of delivery for you. Communication is key for impact play; do your research outside of this review if you are a novice. You could permanently damage the skin with very little effort and no one wants that, no matter how into pain you may be.
Design / Craftsmanship / Size / Material / Features:

The falls are faux leather. Faux leather is vinyl. The total length, from the tip of the handle to the end of the fall, is 20 inches. The wrist strap is also faux leather, four inches long and one half inch wide. The handle itself is six and one half inches long and 3 inches in circumference. The falls are 13 and one half inches long and one half inch wide; the ends are cut straight across, not at an angle.

The material itself is soft and very flexible. There is an initial odor when you take it out of the package because of the vinyl fabric. It took about two days of airing it out before I could actually hold it in my hand. Now, as it lays across my lap, there is a very faint odor that lingers. It smells almost like real leather, but the brain still detects that it is indeed an impostor. This is a good thing for those who are vegan or an animal activist. It's a bad thing for those who really want the smell of real leather during impact play.

Twelve falls are layered in steps and then wrapped with the decorative vinyl for the handle and secured with one silver-tone fastener. The top, or the front, of the fall is virtually smooth to the touch while the back, or the bottom, reveals the material's true nature. It feels like unfinished fabric or the back of a decorative patch for clothing.

The handle itself is a dowel, like you would find in any homegoods store, painted black to match the flogger. The wrist strap is secured by the decorative vinyl. I cannot tell if it has been glued or not, but there is not a fastener to keep it from coming loose if you get overzealous. The vinyl on the handle is wrapped much like the tape on the handle of a tennis racket. This provides both texture and grip if you choose not to use the wrist strap.

Material:

Faux-leather

Color:

Black

Length:

24"

Width:

1" / 1/2"

Weight:

0.2 lb

Performance:

The sting from this flogger is intense and lasts for several minutes after impact, leaving delicious thin welts across the skin. It would not be difficult at all to break skin with the right swing. Even though this flogger is relatively short compared to some of the other products on the market, it does have the ability to wrap around the body, so make sure you're on target or else you could do real damage to sensitive areas like the nipples.

This flogger is incredibly light and easy to swing, especially if the wrist strap is used while playing. The falls are so light that they sometimes lap at the arms and wrist.

Care and Maintenance:

Caring for any flogger can be a tricky situation. With real leather, you want to make sure that you clean it only when it really, really needs it. Usually it's recommended to condition the leather only when it starts to dry out.

With vinyl, you can clean it after a few uses or between play partners. I recommend using a very mild detergent, like Woolite, and a very soft damp cloth. Immediately wipe dry with a clean, cotton towel and hang the flogger somewhere when not in use. The vinyl can be creased if it's not allowed to dangle freely.

Other

Texture:

Smooth

Circumference:

2 3/4"

Special Features:

Safety features:

Phthalates free