This Little Flogger Hits Just Right
This is great for first-timers, and not so first-timers can use this as well. It doesn't look that great, but it performs well, especially for the price
Published:
Pros:
Light
Stingy
Cons:
Weak
Looks cheap
This is great as a first flogger; it doesn't hit too hard but isn't too weak. For anyone who is new to the BDSM scene, impact scene, or just wants to be a bit more adventurous, this is great. Beginners can use this and pros can still do this justice; overall this is great for everyone. You can even use it for self-flagellation, if that's what you're into.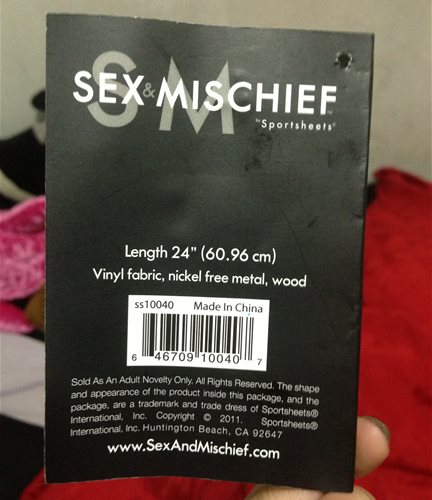 This came how I expected, but I thought the grip on the handle would be a lot less dull. It cheapens the look of the flogger overall.
This is made of faux-leather, also known as vinyl, making this vegan, from what I can tell. The problem is they used the cheaper "faux-leather" for the strands, and they stretch if you pull on them. I know that's not really something that happens normally, but it's something to consider.
I don't like how they just cut-up strips of the stuff and attached it to the wand either. It looks poorly done. They should have at least coated the backside with something so it didn't look like a mass-produced job. I know 2 strips would have made it too heavy, but I'm sure there's something they could have done about that.
The handle provides a nice grip to keep the flogger from flying loose in a moment of heated passion but weak grip. I liked that this was light and had a loop for storage. Its weight really helps with not breaking whatever I hang it on.
This is no cat-of-nine-tails, but it still packs a bit of a sting. My qualm with this is that the sting feels more like that of a riding crop than a whip. This could be due to the width of the individual strands, or that most of the strands move together so they all evenly distribute the impact, as opposed to a whip. The result of this is a bit of redness, but it doesn't bruise much nor cut, to my chagrin.
Follow-up commentary
14 days after original review
Recently I compared this to the Mini Crop Top system, which I deemed not very strong either. Unfortunately this came in second. They both can do the same damage at their strongest, but the Crop Top system requires less effort for maximum damage. I mean if thats the best they can do, then shouldn't the one that requires the least force to reach the best be better?
This product was provided at a discounted price in exchange for an unbiased review. This review is in compliance with the FTC guidelines.

Thank you for viewing
Sex and Mischief faux leather flogger
– flogging toy review page!