What The Heck?
As a warm up flogger or as the main attraction for an adventurous couple looking for spice but not skin stripping force, the Faux Flogger is just the right price! It does have a strong scent at first which may be REALLY unpleasant until it begins to fade. This isn't a flogger that will last forever but for the price it is just right. It can deliver on the promise of a stinging flogging and looks like what you would expect a dungeon to have in it!
Published:
Pros:
Great look, inexpensive and affordable
Cons:
Handle may tear fairly easily, might have unpleasant scent
I have several products from the Sex and Mischief line of toys by Sportsheets so I expected the Faux Leather Flogger to be moderately good quality, useable and great for the bedroom enthusiast. For the most part I was correct. This logger is perfect for the couple who want to incorporate some impact play into their relationship but aren't looking for something necessarily 'pretty' or something that will strip the skin off a partner's backside. Far from being a downside I think this flogger has just the right utilitarian look to it that it means business and looks capable of dealing out the punishment. It really does make the user look tough!
The Faux Leather Flogger is a fairly light .2 pounds in total weight meaning that it won't cause undue wrist/arm strain in use. It also means that it doesn't have quite the impact that a heavier flogger has. The feeling from this flogger is stingy rather than a hefty thud. Now the experienced user can definitely create whatever impact type they want but generally this one is gong to be a great warm up for an experienced player and a great little toy for those not wanting too much sensation.
The flogger is composed of 'Faux-Leather' which EF describes as "Synthetic fibers from polyurethane group" and "a water resistant durable material with a high tensile strength and high resistance to tear." EF also says: "You can wash Faux-Leather with warm water using mild, detergent-free soap and a microfiber soft cloth or an ordinary long-handled, soft bristle brush." Ok so this is what Faux-Leather is supposed to be let's break it down and see how well the Faux-Leather flogger lives up to it's components.
The flogger handle is a loop of faux-leather secured to the wooden dowel handle and wrapped by the faux-leather strips covering the handle. It measures 4 inches in length and the piece is about a half inch wide. It will fit a medium size hand all the way up to a large hand with difficulty. It can be used to hang the flogger provided yours doesn't begin to tear apart like mind has.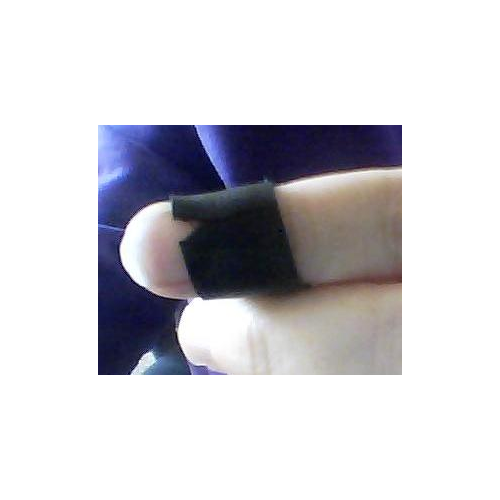 A bit of electrical tape will fix this weakness in the fabric but this is after only one use!
The wooden dowel is completely and attractively wrapped in the faux-leather and the only other adornment on the flogger is a silver brad to hold the wrappings in place and cover raw ends. The handle measures roughly 6 inches in length and about 3 inches around. It provides plenty of hand space and won't cause undue crapming if the user tends to grip his/her floggers tightly during use. The wrappings are even and very attractie looking but the finishings could use work if this were a display item. For a utilitarian flogger it's highly acceptable.
My flogger has a total of 12 falls that measure approximately 13.5 inches from the edge of the handle to the tip of the fall. They are about a half inch wide and cut bluntly at the end. This blunting of the end does cause the fall to curl a bit and not lay as straight as an angled cut would allow but the falls are made of a light weight material that a more angled cut might cause them to fray.
The falls tend to land in a bunch but don't deliver quite the hard thump I was expecting. They can, however, deliver quite a sharp stinging sensation.
Store this flogger out of direct sunlight and in a dry, cool area. I would recommend hanging the flogger so that the falls are hanging to keep them from creasing or curling too much.
It can be washed in cool water and mild soap and I would recommend it as it will begin the fading process for the scent. Let it dry fully before storing.
Experience
Now comes the odd part, for some reason my flogger didn't have that vinyl smell I associate with faux-leather it smelled like a pair of skunks had fought over the top of it! This think reeked so badly that I was appalled. To put it into perspective, I hung my flogger in the corner of our larger than normal bedroom on a walking stick. Later that night we were woken up by a stench so bad we thought maybe the house was on fire. After wandering around poking into everything we isolated the area the smell was coming from. I leaned over to check the stick and the stench hit me like a slap in the face, it was the faux leather flogger!
I had to hang it outside the house for two days and even then it would leave that awful smell on my skin when Sigel used it!
After leaving it sitting for a few more days it still had a lingering pong so I washed it in a soap I knew to be mild but heavily scented and after the flogger was dry it no longer left any traces of the awful smell onmy skin and it was tolerable. The smell has continued to fade over the past week.

As a thorough reviewer I did contact another reviewer who had purchased the Faux-Leather Flogger to ask if his was as nasty smelling as mine was. He assured me that his was not and we were both puzzled. Faux-Leather is a soft material that might be porous enough to absorb fragrances. I think this was an isolated incident and to prove the point I ordered and received the Mahogany Flogger from Sportsheets and it doesn't have an unpleasant odor at all. I think mine was just the luck of the draw. Other reviewers have admitted that their flogger had an odor that needs to be aired out but none wewre quite as bad as I experienced.

All in all despite the tearing handle and awful smell I do actually like the flogger and use it regularly. I rate it at a 4 stars because with a touch of work it will last forever and the smell will fade. The ease of use and great capacity for just the right amount of pain makes it a good flogger despite the minor problems I had with it.
Follow-up commentary
6 months after original review
The smell has finally faded to non-existence and we are able to enjoy the flogger the way it's meant to be enjoyed. I have no idea what was up with the rank smell but I would caution reader's to not store this flogger near any strongly fragranced items or areas lest it pick up objectionable scents.
This content is the opinion of the submitting contributor and is not endorsed by EdenFantasys.com

Thank you for viewing
Sex and Mischief faux leather flogger
– sex toy review page!