Sportsheets Sex and Mischief jeweled flogger - Whip from Sportsheets

Sex and Mischief jeweled flogger videos
Product Details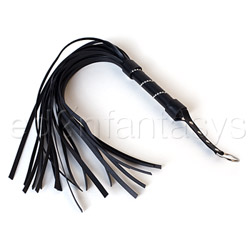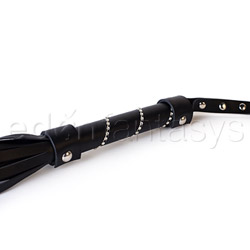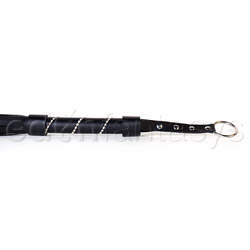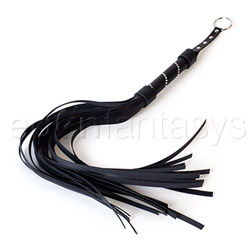 Summary:
This is a very good introductory flogger for someone new to BDSM. It is lightweight, easy to control and doesn't seem to leave marks. However, the quality of the craftsmanship around the handle concerns me a bit. I would be concerned about the rivets coming loose and the strap that fastens the tails to the handle coming off.

Because of this, I am giving this flogger only 3 stars.
Pros:
Affordable price, good introductory toy, stingy, and no bad odor
Cons:
Black band on top and bottom of handle looks like it could come loose
Best use:
Designed to give stingy sensations, this lightweight flogger is a great introduction to the world of BDSM. It did not leave marks for us, but we probably were not trying as hard as we could since we're new to floggers.

Because it is lightweight, we recommend it mainly for beginners. However, more advanced users may find more creative methods for using this than we thought of.
Design / Craftsmanship / Size / Material / Features:

First for the specifics:
From the tip of the O-ring at the top of the handle to the bottoms of the tails this flogger is almost 31" long. The O-ring is 1.5" long, followed by a 4" vinyl strap which has 4 silver rivets in it. The main portion of the handle is 4" long with a 1" vinyl strap wrapped around the top and the bottom of the handle. Each of these straps is secured with a silver toned rivet. There is a string of tiny plastic beads which wind around the handle. I must say that I a concerned about the straps coming loose; they do not seem to be held on as tightly as I'd like.

There are 20 tails which are a tiny bit over .25" wide and 19" long.

When we opened the package we did not notice any odor like you will experience with vinyl or plastic products.

I do not like the fact that the vinyl handle at the top with the O-ring is riveted shut so that you can not put your hand inside. The rivets might be designed to make it look more dangerous, but we feel it detracts from the quality that the manufacturer was trying to give and cheapens the look.



Material:

Faux-leather

Color:

Black

Length:

30"

Width:

1/4

Weight:

0.3 lb

Performance:

Being newbies to floggers and BDSM, it is possible that we were not using the flogger hard enough to play with its full potential. However, we found that while it gave a stinging sensation that could be felt for several minutes, it did not seem to leave marks on either of us. We used it both with clothes on and without clothes on and did not feel what we would consider to be "pain".

The flogger is lightweight enough that it was easy to hold in our hands and direct where we wanted it to hit.

Care and Maintenance:

I contacted the manufacturer for cleaning instructions since there were none included in the package. They stated that you should use a rag with warm or cold water plus some mild soap. They then added to make sure that the rag was not too wet when using it with the flogger.

Packaging:

The flogger was in a clear plastic bag that was the full length of the item. The sides of the bag were perforated which made for easy opening.

I do not recommend keeping the bag because it is not sturdy.

There was a tag attached to the flogger. You can see the information it gave on the pictures below.



Other

Texture:

Smooth

Circumference:

3"

Diameter:

1"

Special Features:

Kinky
Rhinestone accents
Travel

Safety features:

Phthalates free