The jewel.
This is a great. No. Amazing product that I highly recommend. This toy is great for beginners and great for more experienced couples. I think ANYONE would enjoy this whip. Give it a try and find out for yourself!
Published:
Pros:
Great price. Amazing product. Easy to use.
Cons:
No cons.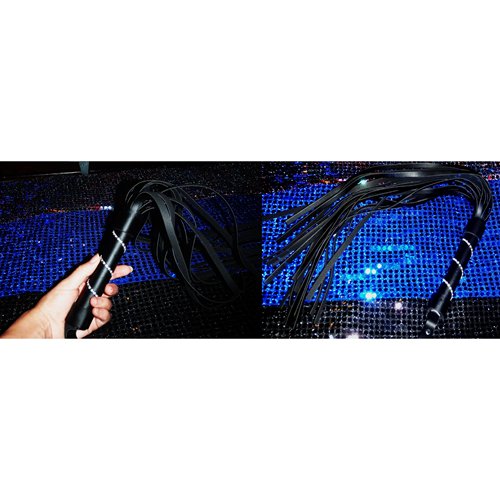 Enter the world of pleasure and have some fun with this jeweled flogger by sport sheets.
You will no doubt have an amazing time using this 30" inch rhinestone studded whip to entice your lover, and entice it will! Whether you are the whip-er or the whip-ie, you will no doubt enjoy using this amazing whip for hours and hours of BDSM fun.
When this whip first arrived I was stunned by the gorgeous black faux leather combined with the sparkling rhinestones. I thought that for the great price that this whip was, it would look and feel cheap. But it didn't! The color was gorgeous, the leather was amazing and those rhinestones…. oh those gorgeous rhinestones. As I'm sure you can guess, once I got over the shock, I was very pleased.
This whip was so nice the I wanted to go get a hammer and nail so that I could make a spot on my wall to hang it on! Of course there are younger children in the house that I am currently living in, and I don't think that such behavior would be found acceptable ;)
The dimensions of the whip are
Handle: 6 ½" Inches
Leather Tassels:18 ½ Inches
Wrist holder(with O-ring): 5" Inches
That brings the entire length of the whip to 30" Inches, exactly as it says on the products page.
This whip comes packages in a plastic wrap that it sits inside.
Once you take it out of this wrap it is re-sealable. However you have to be careful with it if you intend to use it again. You can slide the whip back into the plastic wrap to keep dust and other such particles from settling on the whip. But I personally just tossed it in the trash since I didn't feel like taking care of plastic ;)
In the packaging there is a picture of a practically naked woman(only in panties) holding onto the whip.
On the picture it says "SM Sex and mischief " and "Jeweled flogger". This also went straight into the bottom of the trash can.
All I can say is this whip is DEFINITELY worth the $13.00 dollars. I am simply amazed that it is that cheap. What a steal!
Get it while you can because this is the PERFECT whip, everything about it is great.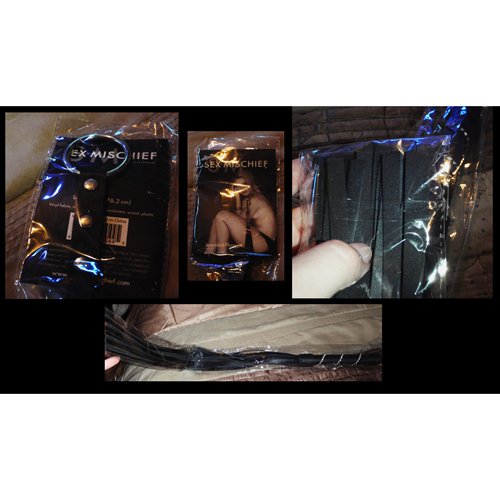 Experience
My experience with this product has been great. Sportsheets has definitely done me yet, another favor and I couldn't be happier.
This whip packs just the right ammount of punch and I really enjoy being flogged with it, and my man has definitely enjoyed it just as much as I have!
Both of us have big smiles on our faces from satisfaction after we get done using this baby!
This was the perfect thing to add to our collection to spice-up our already amazing sex life. What would we do without Eden? I have no clue. What would we do without this whip? Yet, another mystery.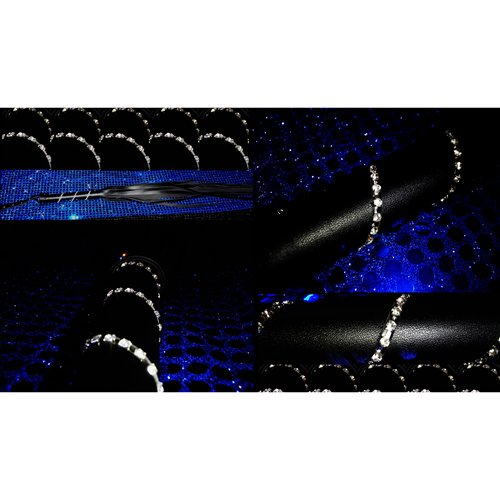 This content is the opinion of the submitting contributor and is not endorsed by EdenFantasys.com

Thank you for viewing
Sex and Mischief jeweled flogger
– whip review page!