Best use:
The Sex and Mischief Spread the Love Bar by Sportsheets is a non-threatening bar that aims to keep the legs or arms spread during sex play. It works well for people who don't have a headboard or footboard to tie a playmate down. It can also work if the player is worried about marking up or ruining an ornate headboard or footboard.
This spreader is also great for allowing the "captive" to walk or even crawl with their knees apart.
This isn't a toy for the hardcore player as it isn't long enough or sturdy enough to withstand real struggle. For the bedroom enthusiast, or the very well trained sub who doesn't struggle, this is a great little addition to a toy lineup.
It could also be used for the solo enthusiast easily as it doesn't have buckles that could make getting out of bondage quickly, in an emergency situation, difficult or impossible.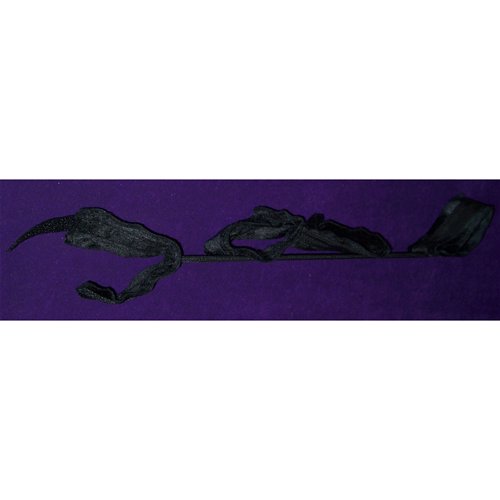 Design / Craftsmanship / Material:

The spreader bar is composed of polyester covering a thin and flexible but sturdy 13.50 inch spine. The bar is not long enough for hardcore whipping purposes and certainly will not cause strain on the hips, thighs or ankles. For users who have problems with any of these areas a shorter spreader bar can be a lovely addition to the toy box. For the bedroom enthusiast who isn't looking for something threatening this spreader is exciting, represents a safer trip into the dark side of bondage and discipline.
The spine is not going to bend and break easily nor is the stitching going to fray easily.

There are four hook and loop type cuffs spaced evenly along the bar. The cuffs are stitched to the spine but the user will need to be careful not to torque the cuffs with force as they can be pulled off the bar easily. Each of the cuffs measure 12 inches completely unfolded. They are smaller size cuffs which may not fit all sizes of ankles though they will fit most wrists. Obviously, the more contact the hook and loops have the stronger the cuff will be. So if the user has larger ankles it will be easier to struggle their way out of the cuffs. To be sure the cuffs will fit I urge the potential buyer to find a measuring tape and wrap 12 inches of it around the ankles of the potential wearer. If the tape wraps comfortably around the ankle the cuff will fit! You will need the ends to wrap over each other for proper fit.

I have smaller sized wrists and these fit comfortably with plenty of overlap.

I have medium sized ankles measuring in at around 9.5 inches.

These cuffs allow for little overlap and do not wrap completely around my ankle with out a gap. People with larger ankles might not be able to use this as an ankle spreader bar.

There is no smell associated with this bar and the cuffs are soft and plush. They will not leave rope burn or cause the hands/feet to go numb. There are four cuffs so if your partner is flexible enough you could bend them over and cuff them to the bar by both wrists and ankles.

The entire bar is well made except for the point where the cuffs are stitched to the bar itself. A few extra stitches or super glue can solve this problem easily. Be sure not to super glue more than the area where the cuffs are attached by the manufacturer as it will impede the usefulness of the cuffs.
The stitching on the bar itself and on the cuffs is even, sturdy and there are no loose or fraying threads.
The bar is waterproof and body fluids will not damage the finish.

In my opinion the product is well made but the cuffs could have been stitched more firmly to the bar. Now I did have to use some force in the opposite direction to tear it off the bar so some care on the part of the user will ensure this product lasting for quite some time.

Material:

Polyester

Color:

Black

Length:

15"

Weight:

0.2 lb

Performance:

This is a cute spreader bar and a great addition to a toy box for just about anyone from the extremely hardcore player to the lightest weight player. We were able to try a few new positions and the bar is very easy to use. It didn't fit Sigel or Arch's ankles well enough to actually restrain them but my ankles, being smaller around, were firmly restrained.
We have a shaker type headboard that has wooden spindles. We were able to slide the spreader bar behind the headboard and firmly secure my wrists. This prevents the scarring of wood that other types of restraints can leave. I was unable to escape the cuffs, though I found that I could work a finger under the hook and loop tape if I went slow and careful. For solo bondage enthusiasts this is a bonus because it means they will be able to escape should the need arise.
I was bent over and secured wrists and ankles to the bar, which was fun and actually challenging to maintain. The guys were able to secure me on my knees by using the inner two cuffs for my ankles and the outer ones for my wrists. Very useful for some scenes!
The entire bar is very user friendly and requires no explanation, which is a good thing because none was offered! The cuffs are comfortable and soft but the spreader bar is too short to really offer some spread. A telescoping or simply longer bar would offer more options.

Packaging:

The bar arrives in a hard cardboard box that is MUCH bigger than the bar itself. The bar is encased in a light plastic sleeve inside the box. The outer box has a lovely but highly indiscreet picture of a woman wearing the spreader bar on her ankles. She is all but naked though posed to reveal very little.
The box would be great for storing the spreader bar if it wasn't so very large. As it is the box takes up too much room and I store the bar inside my steamer trunk with most of my bondage gear.
The box is fully recyclable.

There were no instructions included but honestly, no instructions are needed. Possibly some direction about how to wash the spreader could have been included but I can't see a time where these cuffs would be so dirtied that they would need to be cleaned beyond a wipe down with a damp cloth.

This is not terribly discreet, even out of the box, as it looks like a bar with cuffs attached. Not much way to explain that they aren't intended for sex. The benefit is they can be placed between your shirts or pants in a suitcase and not be as noticeable for traveling.

Care and Maintenance:

I store all my bondage toys in a steamer trunk and this bar fits neatly inside one of the compartments. It could be stored under a bed in a plastic storage box. It could also be stored in a clothing drawer or even between your mattress and boxspring!

This is polyester so it is washable though I wouldn't try running it through a washer or dryer. A wipe down with a damp rag and air drying is probably all the average user will need.

Personal comments:

We did have some fun with this bar despite the fact that I had to super glue one of the cuffs back on after I stupidly ripped it off. Still, it did show that it is possible to pull the cuffs off and it allowed me to issue a mild warning to any potential buyer! It is a mild warning because the force I used is not something that most users will apply to the cuffs during use.
We were able to get me into lots of weird and wonderful positions though it was a bit frustrating that the bar wasn't longer. I am too short to be tied to the headboard and footboard of our bed so having the bar was nice as it allowed me to be secured without the need for long ties that can catch Sigel or Arch's foot or leg. Sometimes long ties can be fun but other times they are just a pain in the ass to maneuver around.
This isn't a tie down that would keep me totally secured for long but since my guys are sensual sadists, they don't want me to struggle much...it's all about self control!
I was able to escape fairly easily with some creative twisting and by loosening the hook and loop tape with my fingers. Far from being a drawback this is actually great for players who worry about either losing total control or emergency situations.
This bar is a great introduction to spreader bars in general and will provide some fun encounters for couples looking to spice things up. It can also be amazing for a more advanced couple to show how well trained a sub is, that he/she doesn't need heavy duty restraints to stay put!

Other

Special Features:

Size:

One size fits most

Closure:

Velcro

Fits up to:

Any size