Sportsheets Sex and Mischief steele balls - Vaginal balls from Sportsheets

Sex and Mischief steele balls videos
Product Details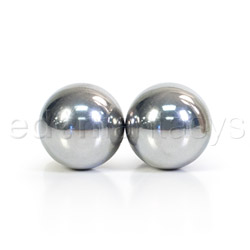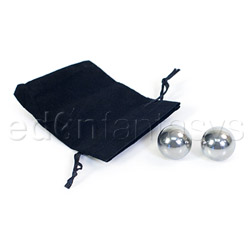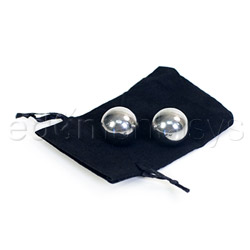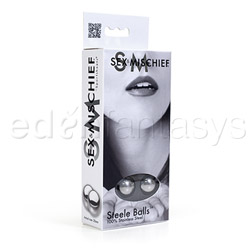 Summary:
These vaginal balls are great for kegel exercises and temperature play, as well as light stimulating during everyday activities. Made of stainless steel, they're easy to clean and won't scratch from regular use. This product also includes a carry pouch for using them out and about.
Pros:
Holds temperature well, good for kegels, easy to clean.
Cons:
Those not into temperature play might want to regulate their use of these.
Best use:
These steel balls are inserted into the vagina, and cause the kegel muscles to contract to hold the weighted balls inside. Not only does this exercise your kegels, but it's mildly arousing to walk around with them inside.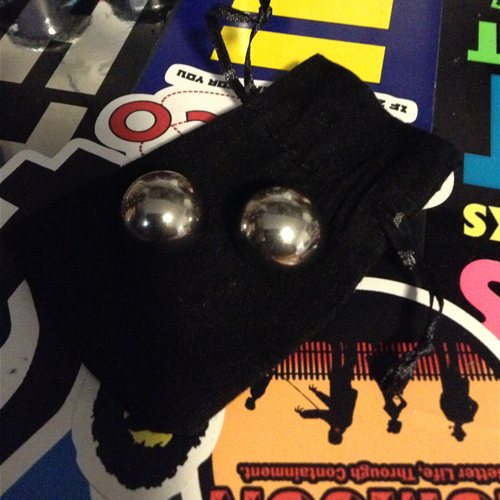 In addition to kegel-exercising, you can use the balls for some mild to intense temperature play. The balls will most likely be cooler than your body temperature, so inserting them might have a cooling sensation. To avoid this, warm them up in your hands before inserting. To intensify this, put them in a refrigerator or freezer for a few minutes before inserting. You can also soak them in hot water for the opposite effect.
General Warning: These are NOT for anal use. Anal use of this product may lead to a trip to the ER for removal. Do not risk it.
Material / Texture:

Made of stainless steel, these balls have the highest safety rating on EdenFantasys. The texture is completely smooth, with no seams or imperfections. There is no taste or smell to this product, and it does not scratch with regular use.

Material:

Stainless steel

Material safety

Texture:

Smooth

Safety features:

Latex free / Non-porous / Phthalates free

Design / Shape / Size:

The design of these balls is very simple. The balls are made of stainless steel and weigh about a quarter ounce. The weight of the balls causes the muscles in the vagina to contract in order to hold the balls inside. This reflex exercises the muscles as you walk around.

The balls are half an inch in diameter, so they should fit most vagina-owners just fine. If you have problems inserting them, try a dot of lube on each ball.

Removal is actually much easier than I imagined. I personally had some fears of using vaginal balls without a retrieval cord, as I am used to the very differently-designed Luna Beads. However, they were very simple to remove. The balls stay close to the bottom of the vagina, near the opening, and scoop out easily with a finger or two.

Keep in mind that, unlike the anus, nothing can get stuck inside your vagina. Your cervix blocks anything from going too deep into your body, so if you have any trouble getting these out, just relax, stand to get them as far down as possible, and try again.

Color:

Steel

Length:

1/2"

Insertable length:

1/2"

Circumference:

1"

Diameter:

1/2"

Weight:

0.25 oz

Performance:

The balls are not uncomfortable, but absolutely noticeable as you walk around. These are arousing to wear when you're in the mood for some light sensations. I suggest couples trying these during a night out for dinner, just to add a little tease to the night.

These balls, as simple as they are, perform just fine. My concerns about not having a retrieval cord disappeared after the first use.

Special Features:

Small size
Travel
Water resistant

Care and Maintenance:

Cleaning is a breeze. These balls can be cleaned with a toy wipe, toy spray, or mild soap and water. In addition, if you wanted to completely sterilize them, they can be boiled or put in the dishwasher--just be sure they're in silverware box or something so they don't fall into the dishwasher and break it!

Included with these balls is a storage/travel pouch to keep them in. It's not padded and is cheaply made, but it provides a place to put the balls somewhere they won't get lost, scratched, or dirty. Store these balls anywhere you'd like--just be mindful of the temperature, as they hold storage temperatures very well.

Care and cleaning:

Soap and water

Packaging:

Packaging is very simple and can be recycled. Included is a note that tells users to wash the balls well before their first use.