Sportsheets Sex and Mischief strap-on and dildo - Harness and dildo set from Sportsheets

Product Details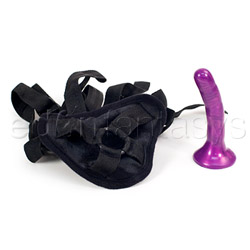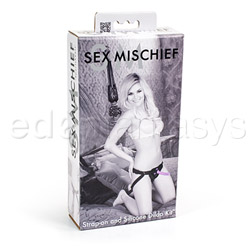 Summary:
This product is a great beginner's harness, especially for anal! That being said, it may not satisfy during vaginal use. Merely consider your purpose for buying a harness when looking into this inexpensive and highly functional option.
Pros:
Includes silicone dildo, inexpensive, good beginner harness.
Cons:
O-ring included is only for small dildos, cannot use other o-rings with this product.
Best use:
The Sex and Mischief Strap-on is a fantastic beginner's kit for pegging or strap-on sex, since it includes both the harness and a small dildo to get you started. It contains everything you need for a night of experimenting with something new or indulging in deep-rooted fantasies. This product is perfect for female partners of anal-friendly males, two female partners, transgender individuals, or anyone else looking to give wearing a harness a try!
Material:

The fabric of the harness is made of polyester with polypropylene webbing. The base of the harness is soft and has a slight "furry" feel to it. The buckles that adjust the straps are made of plastic, and the o-ring is made of nitrile.

The dildo is silicone, which has a safety rating of 10/10 on Eden's scale. It is non-porous, super smooth, and easy to clean. However, be sure to avoid silicone-based lubricants with this dildo and store it away from other silicone products.

Dildo

Material:

Silicone

Harness

Material:

Polypropylene

Design / Craftsmanship:

The harness has a waist strap, as well as two leg straps. It nicely supports the weight of the dildo included, but cannot take much larger. Since the o-ring is made for this dildo, you won't be able to fit anything larger than an inch in this harness. Also, the o-ring does not come out, so there's no switching o-rings to accommodate larger dildos.

The straps are fully adjustable and can fit some plus-sized individuals. I was surprised that a one-size-fits-all harness was able to fit my tiny roommate as well as myself.



Dildo

Color:

Purple

Harness

Color:

Black

Size / Fit:

Max. Waist: 60"
Max. Leg: 36"
Base width: 7" at top, 3.5" at bottom.
Base height: 4.75"
Dildo Diameter: .857"
Dildo Length: 5"

The harness is adjustable, as stated in the previous section, and can fit a large group of individuals. I am a larger person who normally has trouble fitting into clothes from Eden, but this harness fit me just fine. My roommate, who is a much, much, much smaller person was also able to wear this comfortably. Below is a photo of my roommate modeling the harness.



Maximum hip size:

One size fits the most

Maximum waist size:

One size fits the most

Weight:

1 lb

Performance:

The harness performs pretty well for the dildo included, but does not perform very well with anything larger. If this is being used for pegging beginners, it's fantastic! Anyone looking for larger girth will have no use for this harness, however.

The straps can be tightened while wearing to keep the harness comfortable and sturdy. It works very well with the included dildo, which is great for non-intimidating anal sex.

The dildo itself is only .857" in diameter and, while it is great for beginners to anal, it is very small for most vaginal users to enjoy. Consider highly what you are using this harness for before buying it.

Care and Maintenance:

The silicone dildo is super easy to clean by boiling, using soap and water, putting in the top rack of the dishwasher, soaking in a 10% bleach solution, or using top wipes/sprays. If you are going to switch from anal to vaginal use at any time, be sure to sterilize it to avoid infection. You can use a condom over the dildo if you are going to be sharing with partners, as well.

The harness is machine washable if it comes in contact with any bodily fluids, which is very convenient!

Store the dildo away from silicone products, either in or out of the harness. This product can be stored anywhere clean and dry until its next use.

Packaging:

The packing is not discreet in the slightest. The front has a smiling woman with the harness on, as well as the words "S&M: Sex and Mischief". The back has another woman wearing the product and a short story about someone using the harness. You can use the box for storage if discreetness isn't an issue.

The product is by Sportsheets and is made in the USA.





Other

Texture:

Smooth

Safety features:

Food-grade material / Hypo-allergenic / Latex free / Non-porous / Phthalates free

Harness compatibility:

O-ring compatible

Kit includes:

Silicone dildo and harness

Insertable length:

4 1/4"

Diameter:

1"

Dildo

Circumference:

3"