Bend Over, Baby!
I really can't say enough positives about this harness set. It's well made. It includes a pretty, body safe dildo in a great size for beginners. It's reasonably priced. It isn't intimidating if this is your first harness purchase. If you've been thinking about taking the plunge and trying a harness, jump in and get this one!
Published:
Pros:
Well Made
Great Silicone Dildo
Comfortable
Fits a Wide Range of People
Cons:
Cannot change out the 0-ring
I was so full of mixed emotions when I got this. I was nervous and excited. This set is my first strap on. My first look at the package was satisfying. The chic black and white design and the brief erotica snippet on the back all work together to make this kit something sexy instead of something intimidating. The package is a firm cardboard, and would be good for storage. Inside the package is the harness itself, and the silicone dildo. The package is anything but discreet, with a woman wearing the strap on prominently displayed on the center of the front and the word "sex" all over the box. It is far from cheap or trashy looking, but it isn't demure.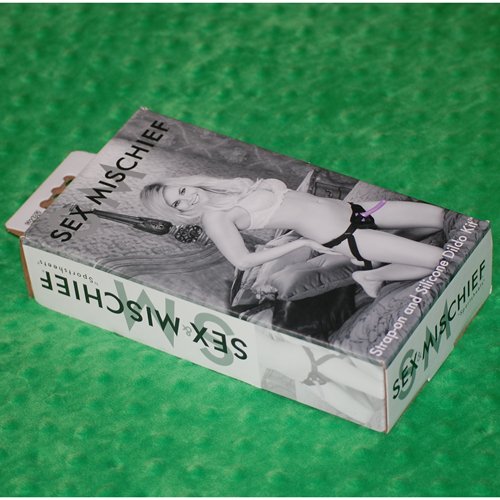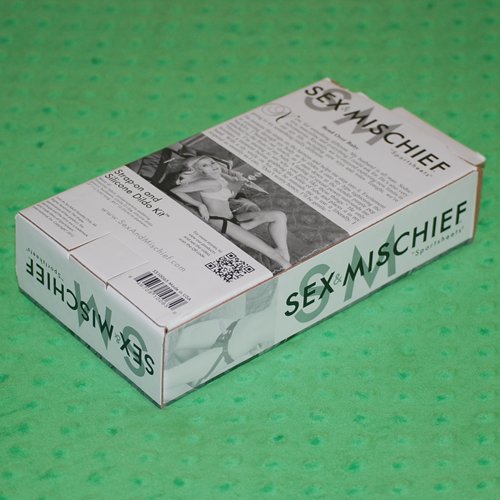 The dildo is a very pretty purple swirly color. The shaft of the dildo is smooth, with no texture or seams. It has a slight curve to it and an ever so slight rumpling to it. It is so slight that it really required me to take a second look to see if it was a trick of the light or actual "texture". It is very bendy, flexible silicone, but sturdy enough to hold up to thrusting once you get it started. It is waterproof, O-ring compatible, and has a nice flared base. The base of the dildo measures around 2" diameter and the dildo itself is 5 1/4" in length. The insertable portion of the dildo is 1" in diameter, and around 4" in length. It isn't going to impress the size queens out there, but for a beginner harness kit, I think it's a great choice. It is bigger than a finger, but isn't going to scare new comers off by being huge or scary. It is smaller than most anal toys my husband uses, but because this was the first harness experience we both feel it's best to start off small. It is made of silicone, so it is very body safe and can be sterilized. With silicone toys, you want to avoid silicone lubes. You can use a water based lube with this dildo. To clean it, you can wash with soap and water or any toy cleaner. You can sterilize this toy by placing it in boiling water for three minutes, or by placing it in the dishwasher. Silicone ranks a 10 out of 10 on the Eden Safety Scale.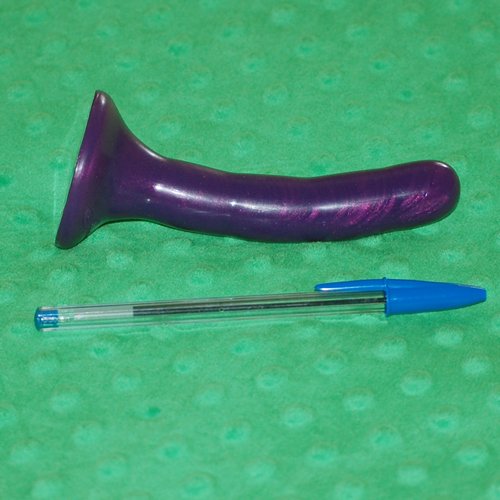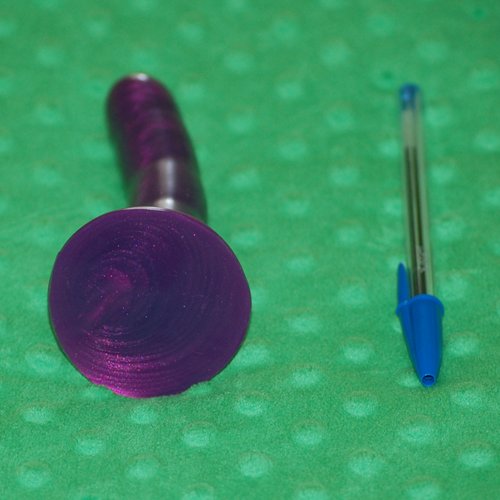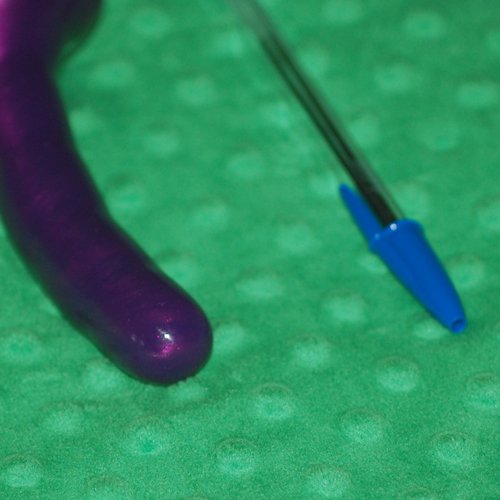 The harness itself is basic black and very simple. It will fit up to a 60" waist, which is pretty impressive for a one size fits most piece. The leg straps will go up to 36" until they meet the waistband. The middle section of the harness that holds the dildo measures 7" wide at the top and 3 1/2" wide at the bottom. It is 4 3/4" tall. That whole section seems to be made of very smooth faux fur on both sides, and is very soft against your skin. The O-ring is 1 1/2". You can't remove the 0-ring, so you won't be able to switch to a different ring or a different size ring. As this is my first harness, I've tried to include all measurements that buyers may be interested in. If I have left any out, please message me, and I'm happy to measure anything you like!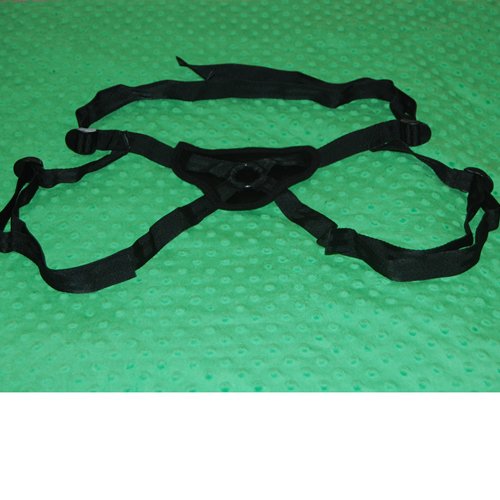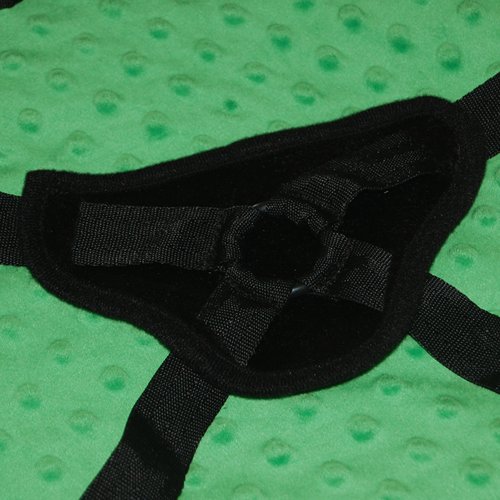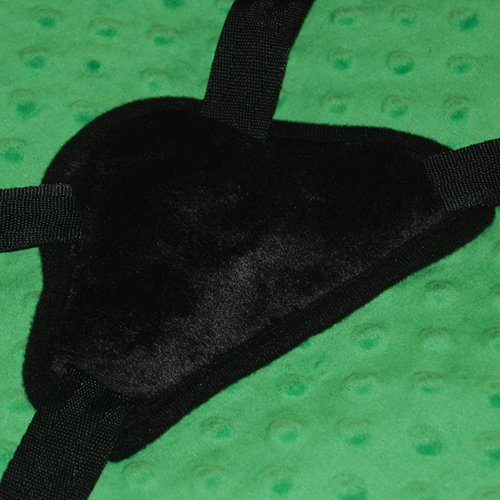 The straps themselves are made of a 1" Polypropelyne webbing, which is surprisingly soft and comfortable. It is less "plasticy" feeling than the straps of a backpack. The buckles are plastic and also measure about 1" wide. They are easy to adjust and hold their placement well. The ends of the straps are simply melted to ensure they don't fray, they are not folded over and stitched. The fit is comfortable, and there is very little droop to it when worn. It feels sturdy and solid when in use, I had no issues with the straps slipping or the entire thing shifting.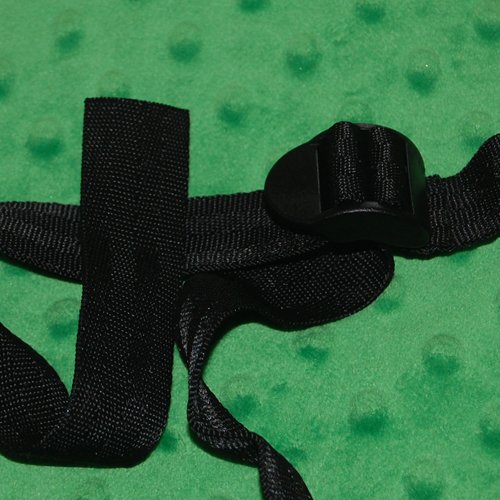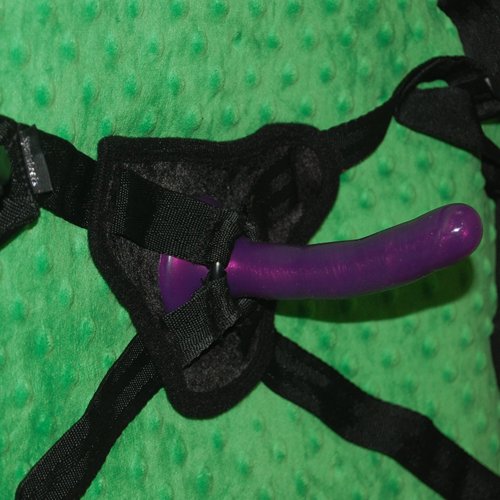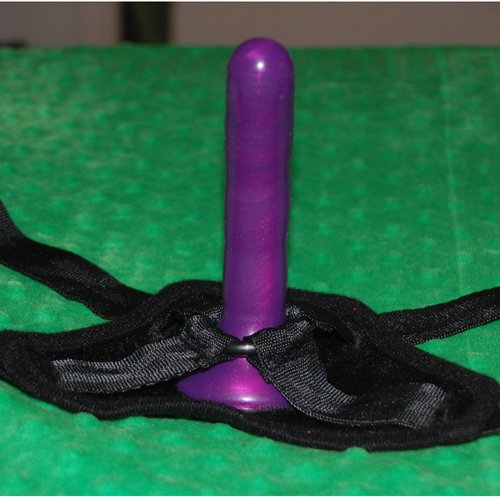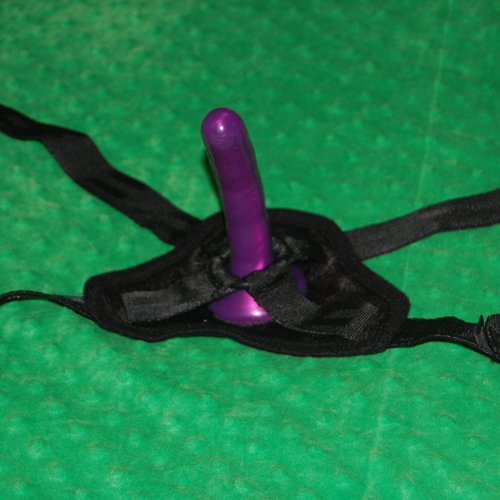 Experience
My experience with this set was a good one. My husband usually kneels or leans over the side of the bed during prostate play, so it was an easy transition to use a harness instead of just manually using a toy. He enjoyed the idea that I was wearing a harness and thrusting with my hips instead of just using my hands. Aside from the new sensation of using my hips to thrust, which was entertaining, this set didn't really arouse me, but I didn't really expect it to. It's fun, and it's something new. I liked stepping outside my comfort zone a bit, and, as always, I loved his reactions to having his p-spot massaged, but the experience wasn't enough to get me off. I don't hold that against this set, as I didn't expect it to push me over the edge. It's a great starter set; well made and pretty.
Follow-up commentary
7 months after original review
Although the dildo is a bit small for us, this set still gets some use. It washed up well and has no issues. It's a great set for a beginner, and it still remains enough for us.
This product was provided free of charge to the reviewer. This review is in compliance with the FTC guidelines.

Thank you for viewing
Sex and Mischief strap-on and dildo
– harness and dildo set review page!