Sportsheets Sex and Mischief stud designer blindfold - Blindfold from Sportsheets

Sex and Mischief stud designer blindfold videos
Product Details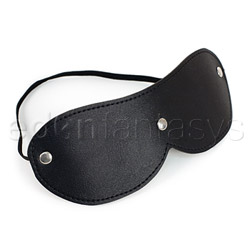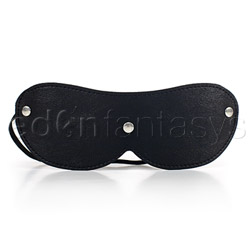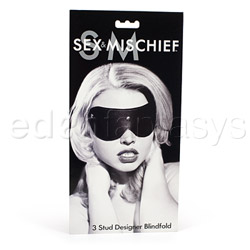 Summary:
The Sex and Mischief stud designer blindfold is an effective blindfold, but it might not be effective enough for everyone. The basic design is gender friendly and it should fit the majority of potential users. It's comfortable enough to even wear to sleep. Are you ready to say hello to darkness?
Pros:
Effective, fit the majority of users, gender friendly, and comfortable.
Cons:
Might not be effective enough for everyone.
Best use:
Sportsheets affordable line of bondage called
Sex and Mischief
. This is a line that is great for those who are looking to introduce BDSM into their sex life. There are suspension kits, head gear, floggers, cock and ball devices, and light kits. This review is for the Sex and Mischief designer blindfold.
Blindfold are used to block out light during your play time. Depending on the design, they can be completely effective in not allowing light through, but the design can also fail. Having your sight taken away is said to heighten the other senses. Some blindfolds can second as sleep masks. The choice is up to you for deciding if this is comfortable enough for a sleep mask.
This blindfold will work for anyone who fits it. The design is very basic. So, it won't appeal more to any sex. This is a great price to add to any couples sex life.
Design / Craftsmanship / Material / Size / Fit:



The stud designer blindfold is 8.5" from side to side and 3" tall to cover the eyes. The blindfold goes curve in for the nose, which is 2" tall. The edge is stitched all the way around the mask in the shape of the mask. There are three silver metal studs on the front and back of the mask. One on each edge of the mask to attach the elastic band and one directly in the middle. The front of the mask appears to be faux leather and the back appears to be velvet. The box calls this Elastic, vinyl with polyester backing with nickle free metal hardware.





The craftsman ship of this blindfold is almost perfect. There are a few places were the stitching is overlapped and there is fraying, but otherwise it's pretty good. The elastic band isn't the most heavy duty band, so you will want to be delicate with it. The band is securely attached to the blindfold with the studs. These studs can't be pull apart, so they are secure too.

The mask is meant to contour the face of the wearer. So Best Fit is:
Temple to Temple 8.5" or less
Eyebrow to cheekbone 3" or less
Eyebrow Middle to tip of nose 2" or more (less won't be comfortable)
Head Circumference 18"- 34"

Material:

Nylon

/

Polyester

Color:

Black

Weight:

0.1 lb

Performance:



Personal Measurements
Temple to Temple 6.5"
Eyebrow to Cheekbone 3"
Eyebrow Middle to Tip Of Nose 3"
Head Circumference 22"

As you can see in the photo this does fit nicely.

During use I am almost completely blind. The only area light is allowed in is right next to my nose. When I look down I can see my nose and the light comes up through there. Other then that this blind fold is very effective. The only reason I have this light is because the mask didn't contour to the shape of my nose. This could be an issue for you, but it might not be. There is no way to know for sure.

I didn't try to wear this as a sleep mask, but it is comfortable enough to wear it for sleeping. You might think the studs would make it uncomfortable, but they don't.

Overall, this is a really effective blindfold that will fit the majority of users.

Care and Maintenance:

Should you get anything on this blindfold, you should wipe it down with a damp cloth. There is no reason to wash it regularly unless you got something on the blindfold.

The mask can easily be stored anywhere. It can even lay right out in the open. This is a sleep mask if anyone were to question it. So discretion isn't required.

Packaging:





Like all of the Sex and Mischief products they come in sensual and non discreet packaging. There is a ladies face of the front who is wearing the mask. The box does say "Sex and Mischief" and many other things on it that make it non discreet. Should you read the back there is a quick response code to send you to their website. And a lovely story to start reading on the back, but continues on the site too. The packaging is a cardboard envelope. It is minimal and doesn't work well for storage.

Other