My Stud Approves!
My stud (aka: my partner) really likes this mask. The elastic band is stretchy so it really is a one-size-fits-all and it's comfortable against the skin. Most of the light is blocked out while wearing the mask but there is still a bit of light that can be seen from the bottom. This mask would be great for beginners or those looking for a simple, inexpensive mask that does a fairly decent job.
Published:
Pros:
inexpensive, comfortable, unisex appearance, can be worn during play or sleep, blocks most light.
Cons:
does not block all light.
The Sex and Mischief Stud Designer Blindfold by Sportsheets arrived in a thin, cardboard package, which resembles a long envelope. The packaging is 12 inches long and 6 inches wide. The front of the packaging has the name of the product and a photo of a model wearing the blindfold. The back of the packaging states the material composition, company website, and company contact information. The packaging is not discreet whatsoever. You could use the packaging to store the blindfold when it is not being worn, but my partner will store this on his nightstand. The packaging can be recycled.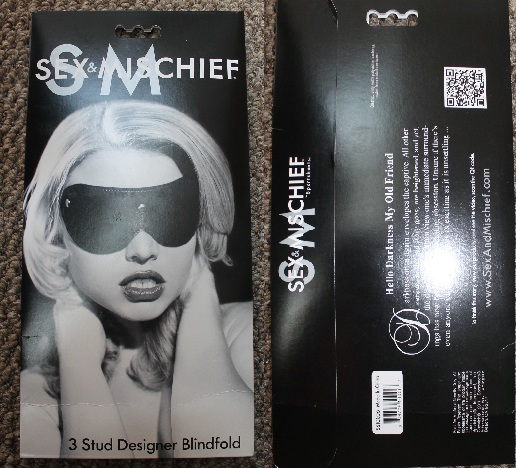 The blindfold is vinyl with polyester backing and has an elastic band to secure the blindfold to your head. The elastic band is rather stretchy so I cannot see it being an issue for anybody, regardless of the size of your head. I've taken a few measurements of the blindfold but if you need additional measurements, let me know and I can get them for you.
Width: 8 ¼ inches
Length (where eyes go): 3 inches
Length (down centre front, where nose goes): 2 inches
Elastic length unstretched: 11 ½ inches
Elastic length stretched as much as I could: 28 ½ inches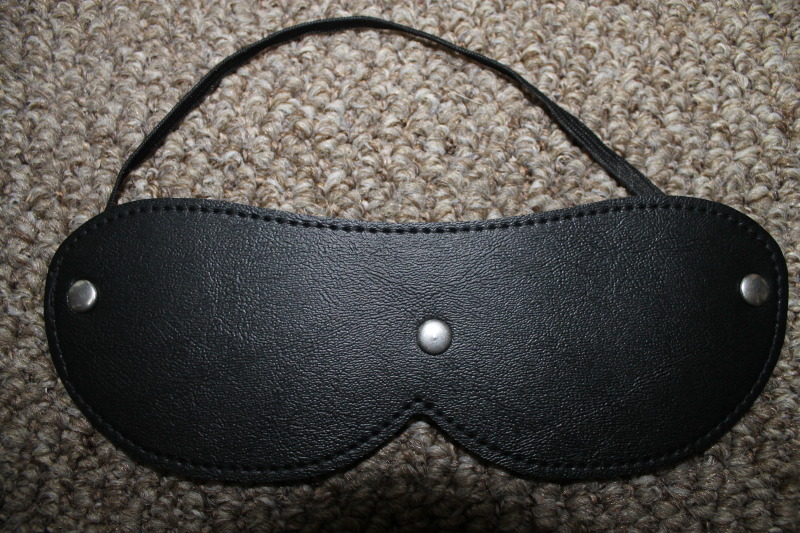 There are 3 silver studs on the front of the blindfold; 1 on each side and 1 in the centre. The studs are approximately .4 of an inch in diameter. The studs are nickel free. The polyester backing to the blindfold is very soft and feels lovely against the face. The stitching to the blindfold is even and the studs seem pretty well secured to the mask. This isn't a blindfold that is going to last forever, though it does seem like it will hold up well for quite some time.
When I tried the mask on it was comfortable against my skin and fit well. The material of the mask cannot be seen through. Unfortunately though, there was a bit of light that could be seen when I looked down because the mask has gapped areas where it sits on the nose. I tried adjusting where the blindfold sat on my face but no matter where it sat, there was a bit of light. I had asked my partner to try the mask on and he had the same issue. The amount of light that can be seen is minimal, but it is there. I believe that the shape/size of your nose will determine how much light can be seen through these gapped areas.
This mask can be used during play or can be used to sleep in. I was interested in this mask for my partner to use to sleep in, though we will probably use it for play as well. My partner has wanted a mask that will block out the light while he sleeps (he likes to sleep in and our room is full of windows), but most of the masks we own are very feminine looking. This stud blindfold has a more unisex look. My partner actually said it looks "very masculine", but then again he is comparing it to my pink blindfold and my blindfold with sparkly rhinestones on it.
When my partner tried the mask on, he said it would be perfect for him to sleep in because even though there is a small gapped area around the nose, most of the light is blocked out. I feel that I too could wear this mask to sleep in comfortably.
As for using this blindfold for play, my partner will probably use it though I would prefer that he had on a mask that he couldn't see out of the bottom for sensory play. The mask looks great on him but I feel that if he can see out of the bottom of the mask, it makes play less exciting.
The mask does not have any care instructions but after looking online at material information, I'd recommend hand washing the item and letting it air dry. Of course, blindfolds don't get that dirty very often so luckily you do not have to wash it after each use. It's more of an "at your discretion" thing.
Overall, we're happy with the mask. It's comfortable, blocks out most of the light, has a unisex appearance to it, and will fit a variety of head sizes. As I write this review, the price is not listed on the product page but after looking online, the price seems to be good (ranging from $7-$14). I've deducted one star because a bit of light can be seen at the bottom of the mask.
Follow-up commentary
3 months after original review
My partner still likes the Stud Designer Blindfold. We have used it once or twice during play but he usually just uses it for when he sleeps. He loves the appearance of it and I think it looks great on him. As mentioned in the original review, it doesn't block out 100% of the light but most of it. The elastic is still secure to the mask and everything is in excellent condition still. We're both still happy with it.
This product was provided free of charge to the reviewer. This review is in compliance with the FTC guidelines.

Thank you for viewing
Sex and Mischief stud designer blindfold
review page!