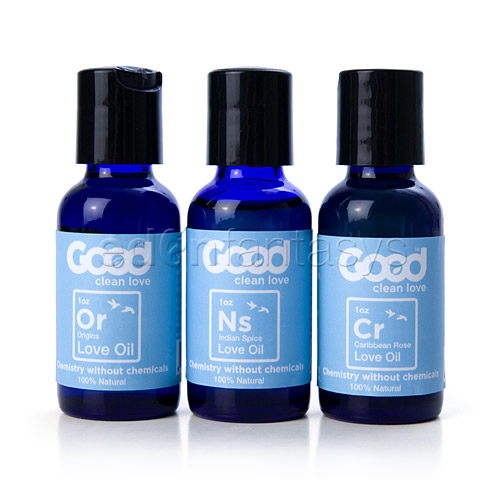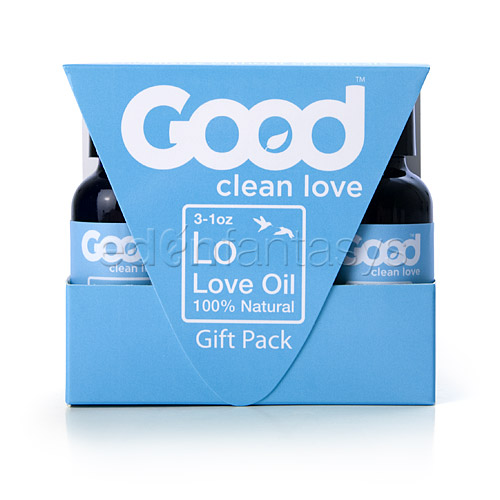 This product is out of stock.
Notify me
A closer look
Set of three 1oz bottles of essential oil blends
How it feels
Moisturizing oil-based formula
Flavor: Caribbean Rose / Indian Spice / Origins
Safety features: Glycerin free / L-Arginine free / Paraben free / Petro-chemicals free
Ingredients: Apricot Kernal Oil, Organic Jojoba Oil, Vitamin E Antioxidant Formula, Exotic Blend of Essential Oils.
How it works
Special features: All natural
Edible and arousingly delicious
Vegan and cruelty-free
The set includes: 1 oz Bottle of Origins Love Oil, 1 oz Bottle of Indian Spice Love Oil, 1 oz Bottle of Caribbean Rose Love Oil.
How it measures
1 fl.oz., carry-on luggage friendly
Ordering Details
Manufacturer: Good Clean Love
This is a great little set of massage oils. It does exactly what a massage oil should do. It's not sticky. It absorbs nicely but still delivers plenty of glide when you're giving a massage

Cute package and bottles; 100% natural and vegan; Great scents; Long lasting

Good Clean Love has done it again with these oils. Not the tastiest thing ever, but the scents are each unique and intriguing. On top of that, the oil works really well for massages as well.

Three scents to try/choose from, Natural ingredients, No sticky hands afterward!