System JO JO personal anal lubricant - Lubricant from System JO

Product Details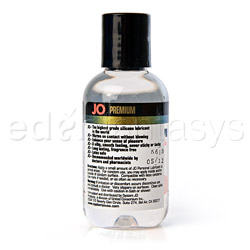 This premium, silicone based lubricant is specially formulated for anal sex.
The long lasting formula will enhance your sense of pleasure and provide ample lubrication when you need it. Silicone lubes are a blessing to all of us, and this one is one of the top runners. It's a silky formula and will never get sticky and it will last for quite a long time. 100% latex safe, this lubricant is recommended by doctors and pharmacists and is designed for multiple uses. You can use it as a traditional lubricant, an anal lubricant, a massage aid or even a personal moisturizer. Nontoxic and nonallergenic, this lubricant will not block any of your pores.
Properties

Special features:

Safety features:

Glycerin free / Hypoallergenic / L-Arginine free / Paraben free / Petro-chemicals free

Flavor:

Unflavored

Base:

Silicone

Ingredients:

Polydimethylsiloxane, Decamethylcyclopentasiloxane, Octamethylcyclotetrasiloxane, Dimethylsiloxane, hydroxy-terminated.