Not Noticeably Thicker Than Original Formula
This quality silicone lubricant is an anal formula that's supposed to be thicker than the regular Jo Premium Personal Lubricant. However, I cannot see or feel any difference! I wanted a thicker version, hoping it would be less runny, but this was just as messy as the regular formula. Since I don't engage in anal play, I use this for masturbation with & without toys & I am pleased to announce I enjoy it, have no negative reactions to it & it doesn't become sticky or tacky!
Published:
Pros:
silky, water proof, unscented, unflavored, hypoallergenic, doesn't become sticky or tacky
Cons:
too thin for anal, leaky bottle causes film all over outside, can't use with some silicone toys
I bought this anal formula because it said it was thicker & that appealed to me. I was tired of my otherwise perfect silicone lube, JO Premium, running all over before getting to where I wanted it & then having it spread out so far I ended up with it down my thighs! Silicone lubricants are waterproof which makes them ideal for use in the water. I, however, don't use it for that, but can attest to having to use soap & water to get it off of me.
I comes in a clear plastic bottle with a lever top. This makes it easy to access one handed, but something about the design &/or the silicone, lets some lube accumulate all over the bottle! No matter how careful I am, or sure I am that only a drop came out, (& I wipe off the lid after closing), there is always a film all over the bottle! It makes me insane & I wanted to warn anyone about this because if you place it on your nice wood nightstand, for instance, you will awaken to find a ring of silicone on the top of the nightstand! And once this coating is on the bottle, it then attracts every bit of dust, pet hair & lint that you never realized you had! This then gets on your toys unless you are very careful. It's more of a nuisance issue.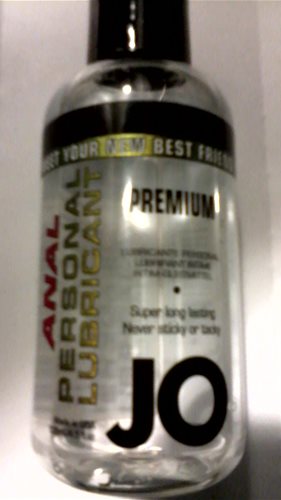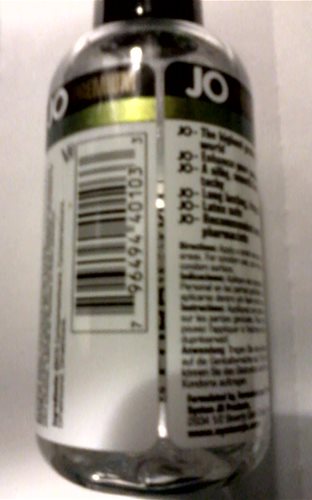 I know that silicone toys, as well as the silicone lubes, say not to mix the two. However, I have found purely on my own experimentation, that this lube worked fine with my premium or platinum grade silicone toys. It is always best to use your own judgement & spot test in an out of the way place on the toy, for example, the bottom of a dildo. If there is a bad reaction, you will know immediately as the silicone surface of the toy becomes sticky, or flaky as it dissolves into the silicone lube. Apparently, this is so obvious that no one could mistake it, that is according to some manufacturers I spoke to about the subject several months ago. I have never seen this phenomenon before, but I only own high grade silicone toys. Even so, I first tested every one before using this lube on them.
Experience
I am happy enough with this lube, it's just that it would better meet my needs if it could be more gel-like in consistency. That way, I could use as much as I need with out worrying about it migrating away from the desired areas. When using it with an insertable toy, I end up with the lube all over the outside of my groin while needing to apply more vaginally. Yet, once again, after more thrusting, or rotation from a rabbit vibe, the cycle repeats itself. This has led me to experiment by mixing in some water-based lube which does help. My only problem with that, is I have yet to find a water-based lube that I am fully compatible with. That is why I put up with the aggravations of a thin silicone lube, because it is one product that has not given me a bad reaction!
Follow-up commentary
8 days after original review
I love that I have found a lubricant that works well and doesn't irritate me! I have had a difficult time finding water-based lubes that don't cause me negative reactions, but even after using Jo Premium Personal Anal Lubricant for several months, I have not had any problems!

My only issue with this, and the reason I removed one star, is that I cannot tell any difference between this supposedly thicker version and the regular JO silicone lube I have. I was hoping for something thicker so it wouldn't run and spread so much! The dispenser top also leaks after use and I cannot figure out how to avoid this problem, so that is the other reason I removed that one star.

I would highly recommend this formula and I do use this on some of my silicone toys. However, I only have premium, platinum grade silicone toys and I still patch tested every one to make sure there would not be a problem. If you do notice some very sticky, flaky or otherwise strange reaction where the silicone lube is damaging the silicone surface, use a paper towel, or cloth to remove as much as you can, as fast as you can! Be prepared ahead of time, so you can stop the reaction quickly! Wash the remainder off with dish detergent, if you have some, otherwise use soap. Try not to spread the damage outward, you want to keep it contained. After it has dried, you should be fine to use the toy. Just know that in that area, you will need to spend a little more time making sure it's clean, unless you sanitize by boiling. If the toy is not solid silicone, such as one that has a thin, silicone sleeve over a plastic part, know that you may damage it enough in a spot test, that it causes a hole in it, so be especially careful in testing those!
This content is the opinion of the submitting contributor and is not endorsed by EdenFantasys.com

Thank you for viewing
JO personal anal lubricant
review page!