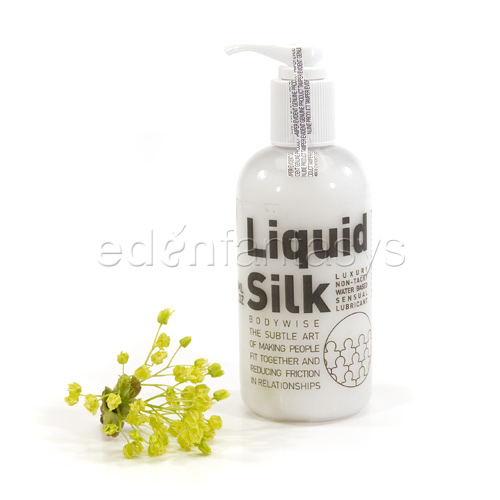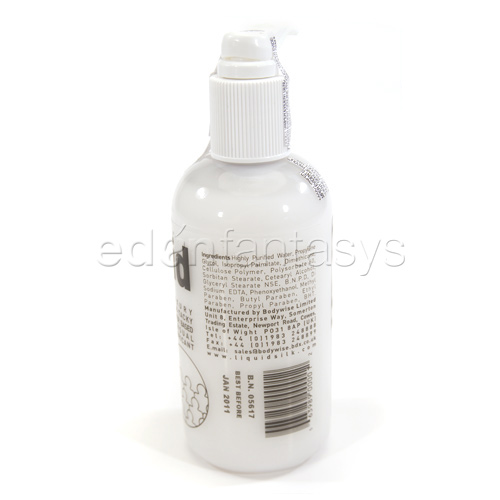 This product is out of stock.
Notify me
A closer look
Luxury, non-tacky water based sensual lubricant
How it feels
Water-based formula is compatible with all materials
Flavor: Unflavored
Safety features: L-Arginine free
Ingredients: Highly Purified Water, Propylene Glycol, Isopropyl Palmitate, Dimethicone, Cellulose Polymer, Polysorbate 60, Sorbitan Stearate, Cetearyl Alcohol, Glyceryl Stearate NSE, B.N.P.D, Di Sodium EDTA, Phenoxyethanol, Methyl Paraben, Butyl Paraben, Ethyl Paraben, Propyl Paraben, BHT
Ordering Details
Manufacturer: Bodywise Limited
How it works
Special features: Moisturizer
How it measures
My wife and I strongly recommend this water based lubricant. It feels great, lasts a long time and is toy safe.

This stuff lives up to its name. It feels great during use, your skin feels great after use and there is definitely some long lasting slipperiness in this bottle. It looks just like semen, but despite (or because) of that is some pretty sexy stuff.

Best general use lube ever. Unless you're going for fisting or a lot of anal penetration, this is a jack (off) of all trades. You will not be disappointed.

Buy this lube. It is a great price for a great product. No gross feelings after and only wonderfully, silky slickness during use. The bottle itself is no mess and no fuss. The only problems are the parabens and possible taste issues.