quantity discount
+ 50 points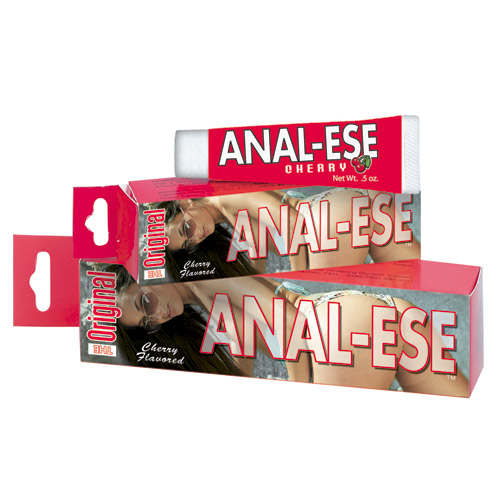 This product is out of stock.
What makes it awesome
Turn your anal play into a truly peachy experience with this flavored lubricant.
Numbing effect prolongs your couple's backdoor pleasure.
Arousingly delicious cherry flavor adds a yummy side to your fun.
Water-based formula is compatible with all your favorite toys.
A closer look
When it comes to anal sex, this desensitizing lubricant ensures the highest level of pleasure. The sensual cherry flavor makes your rimming all the yummier and makes you want to keep licking and licking. When feeling the mood for a passionate thrusting all-nighter, make sure to mix Anal-Ese with your favorite water-based lube for smooth and effortless gliding. Avoid going overboard - apply only a small amount and wait 1-2 minutes to let the numbing effect kick in.
How it feels
Water-based formula is compatible with all materials
Flavor: Cherry
Ingredients: Benzocaine 7.5%, Inactive Ingredients: PEG 8, Glycerin, PEG 75, Sodium Saccharin, Flavor, Red 40, Yellow #6
How it works
Special features: Moisturizer
Desensitizing to ensure a longer-lasting session
Edible and arousingly delicious
How it measures
0.5 fl.oz., carry-on luggage friendly
The lube was very slippery and did actually last for a long time, but I also used it in conjunction with normal water-based lube which I highly recommend doing as well

Anal-Ese is, without a doubt, a necessity for any anal beginner. Use in conjunction with plenty of lube and you'll find things will go a whole lot smoother.

Good desensitizing lube that helps during anal. Edible and unflavored for foreplay purposes. Easily put inside the bag for travel purposes.

Numbing agent, anal play.