Classic Erotica Simply sensual hair care trio - Shampoo from Classic Erotica

Product Details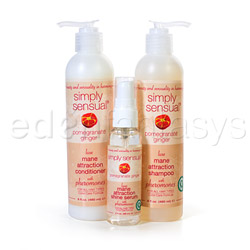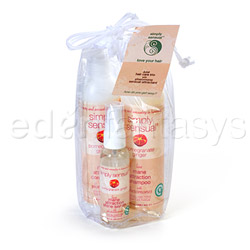 Summary:
The Simply Sensual Hair care trio is a kit to treat your mane three different ways. There is a deep cleansing feeling from the shampoo, a hydrating sensation for the conditioner, and a healthy shine from the shine serum. All are infused with pheromones to help make your hair just that much more attractive. The alluring smell of pomegranate and ginger leaves your hair smelling like spice and citrus.
Pros:
Comparable to my usual, great gift idea, nice smell.
Cons:
Expensive, shine serum is oily, condition runs out much faster, pumps stick, no pheromone reaction.
Texture / Consistency / Thickness / Viscosity:

Ingredients:

Shine serum: Cyclomethicone, Dimethiconol, Cyclopentasiloxane, Cyclohenexasiloxine, Cetyl Dimethicone, Tocopehryl Acetate (Vitamin E), Fragrance (Parfum), Reconstituted Andronone, Copulandrone, Copuline-alike Shampoo: Water (Eau), Ammonlum Lauryl Sulfate, Sodium Laureth Sulfate, Cocamidopropyl Betaine, Lauramide DEA, Hydrolyzed Soy Protein, Dyrolzed Wheat Protein, Panthenol (Vitamin B5), Polyquatemium-10, Hydroxypropyl, Methylcellulose, Glycol Stearate, Sodium Chloride, Citric Acid, Sorbic Acid, Disodium EDTA, Reconstituted Andronone, Copulandrone, Copuline-alike, Methylisothiazollnone, Fragrance (Parfum) Conditioner: Water (Eau), Cetyl Alcohol, Stearyl Alcohol, Cetrimonium Bromide, Panthenol (Vitamin B5), Hydrolyzed Soy Protein, Hydrolyzed Wheat Protein, Ginkgo Biloba Leaf Extract, Camellia Oleifera (Green Tea) Leaf Extract, Cetearyl Alcohol, Ceteareth-20, Glycerin, Dimethicone, Cyclomethicone, Dimethiconol, PEG-2M, Lecithin, Sorbic Acid, Disodium EDTA, Sodium Chloride, Reconstitute

Taste / Aroma:

Fragrance:

Ginger / Pomegranate

Performance:

The set includes:

8 fl.oz mane attraction shampoo
8 fl.oz mane attraction conditioner
and 2 fl.oz mane attraction shine serum

Packaging:

Volume:

2 fl.oz. / 8 fl.oz.

Weight:

1.5 lb

Other

Safety features:

No Phthalates / No Triclosan / Parabens free