Bushman Products Studio collection Cooling O balm - Lip balm from Bushman Products

Product Details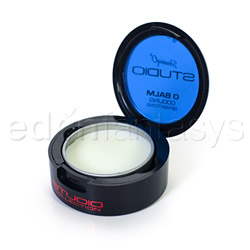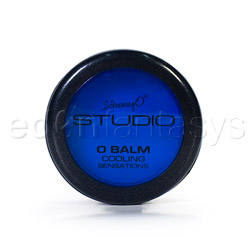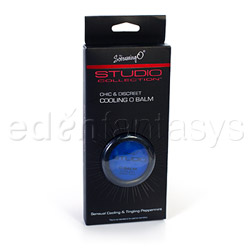 Summary:
Studio Collection Cooling O Balm is amazing! It cools, it chills, it tingles and thrills....and it smells and tastes great too! It makes a great lip balm or adds extra pleasure and sensation to solo play or fun with your partner. Grab a pot, swirl it on your finger, dab it on and let the fun begin! You'll surely enjoy this product just as much as I did!
Pros:
Cooling, tingling, minty, fresh
Best use: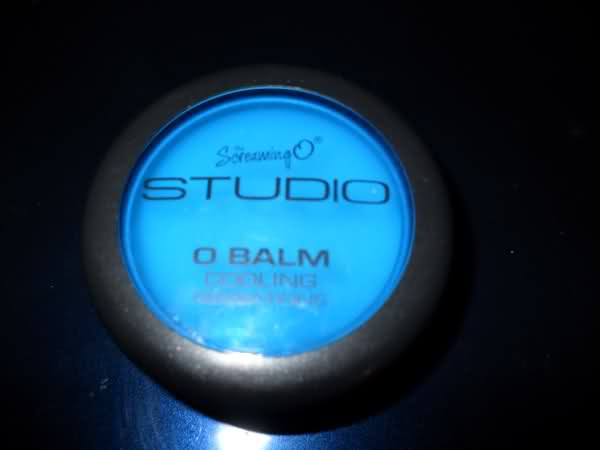 Studio Collection Screaming O Cooling O Balm is chic, discreet and packed a chill that will stimulate and excite your erogenous zones! This little pot of "polar" is designed to look like your everyday eye-shadow product so it can be tossed in your make-up bag or purse. Put this stuff on your lips and give your lover a cool, pepperminty kiss or apply anywhere for a cool minty sensation. Use it as a lip balm or in combination with your favorite "sexcessory" for a fun new chilly experience. This stuff is Paraben-free, petroleum free, phthalate free it's non toxic so kiss or lick away!
The ingredients are: Glycine soja (soybean) oil, cocos nucifera (coconut) oil, butyrospermum parkii (shea butter), euporbia cerifera (candelilla) wax, cannabis sativa seed oil, mentha piperita (peppermint) oil, menthol, prunus armenica (apricot) kernel oil, simmondsia chinensis (jojoba) seed oil, Persea gratissima (avacado) oil, tocopherol
Texture / Consistency / Thickness / Viscosity:

Studio Collection Screaming O Cooling O Balm comes in a pot that looks like eye-shdaow. I'm not sure how much product you actually get because it isn't listed on the box or on the pot. The top of the pot flips up revealing the product inside. While it isn't a big deal, I was a little disappointed to see that the balm isn't really blue, it's white. I just liked the idea of it being blue. The balm is a thick white solid. It feels smooth and lightly waxy, like a lip balm feels and stays where you apply it.



Base:

Oil

Ingredients:

Glycine soja (soybean) oil, cocos nucifera (coconut) oil, butyrospermum parkii (shea butter), euporbia cerifera (candelilla) wax, cannabis sativa seed oil, mentha piperita (peppermint) oil, menthol, prunus armenica (apricot) kernel oil, simmondsia chinensis (jojoba) seed oil, Persea gratissima (avacado) oil, tocopherol

Taste / Aroma:

The Cooling O Balm has a light, faint minty fresh scent to it some may compare to peppermint. When applied it feels cool and has a slight minty taste but it's very light, nothing strong at all.

Flavor:

Undefined

Fragrance:

Peppermint

Performance:

Using the tip of your finger, swirl it on the Cooling O Balm until you get enough to your liking (you really don't need much depending on the area). Smooth it on your lips for a refreshing minty tingle and chill. It lasts a decent amount of time and word of advice, don't put it on then go outside to get something in the middle of winter! Talk about an extra chill down there!! Apply it to your nipples for am exciting cooling sensation that will make you perk up! Dab some on your clitoris for a quivering, cool, tingling sensation! Like I said you don't need much, especially on your clit, it REALLY does cool it! I loved the sensation of the balm down there and it is fun to use along with your bullet vibe, or really any toy for added sensations during play. Use this with your lover to spice, or should I say COOL things down? My guy enjoyed the playful tingling sensation when applied to the tip of his penis during oral combined with the heat of my breath. The balm rubs into your skin very well so there isn't any clean up needed. I love the smell, taste and chill of this product and I think everyone else will too! Give it a go if you've been thinking about it. I was given this by mistake for a review assignment (I requested the vibrating lipstick, which I will be getting and reviewing soon) and was allowed to keep it! What a GREAT mistake I must say! Now I defiantly want to try the Warming O Balm for sure!

Special features:

Cooling
Tingling sensation

Packaging:

The Studio Collection is made to be discreet and look like your everyday cosmetics and cosmetic tools. It does a great job of doing this if it weren't for being tagged with "The Screaming O" on the box and on the product itself. It's not TOO noticeable on this actual product if you aren't looking for it, it is noticeable on the box. Don't mind the rip on the box in the picture, I did that myself when trying to open it.


Personal comments:

I'm impressed with this product and prefer it to a similar product I bought from Slumber Parties, one of those female "adult" party companies. I'm throwing it out and using this! I think they should make this stuff in a tube as well like a chapstick.

Other

Safety features:

No Petrochemicals / No Phthalates / Parabens free

Special features: