Classic Erotica Max satisfaction masturbation cream - Lubricant from Classic Erotica

Product Details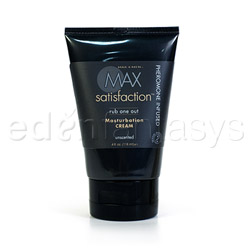 Summary:
Max looks and feels like hand cream, but it is excellent for taking your hand to your penis for a nice jerking off session. It leaves your hand and penis feeling soft and gives it a bit of glide to enhance your session. It absorbs into the skin so nicely you wouldn't even have to wipe up, except for the fact that you will make a bit of a mess when you cum.
Pros:
Nice smell, absorbs cleanly, adds to softness of skin.
Cons:
You will need to reapply for extended sessions.
Best use:
Max Satisfaction Masturbation Cream is a lotion that lubricates your hand and penis for jerking off. It has the texture of a good hand cream, and you can use it like a hand cream by rubbing it into your hands to make them softer for your jerking session. You can also apply it directly to the penis and start rubbing from there. While it handles the friction of jerking off nicely, this is not intended to be used as a lube for anal or vaginal penetration. This is good for anyone who wants the smoother glide you get from adding a lotion to your masturbation, but who likes the idea of using a product specially designed for masturbation (as opposed to typical hand creams).
Texture / Consistency / Thickness / Viscosity:

The texture and feel are similar to hand cream. It comes out of the tube fairly thick, but is quickly absorbed into the skin. It is not the least bit sticky- which is very nice. At first feel, it does seem a bit oily, but that passes quickly as it is absorbed into the skin. Once absorbed, it leaves the hand and/or the penis feelings very smooth and supple.

Base:

Water

Ingredients:

Water (Eau), Glycine Soja (Soybean) Oil, Ethylhexyl Palmitate, Glycerin, Cetyl Palmitate, Dimethicone, Steareth-21, Cetyl Alcohol, Steareth-2, Aloe Barbadensis (Aloe Vera) Leaf Juice Powder, Butyrospermum Parkii (Shea) Butter, Tocopheryl Acetate (Vitamin E), Xanthan Gum, Phenoxethanol, Acrylates/C10-30 Alkyl Acrylate Crosspolymer, Triethanolamine, Disodium EDTA, Methylisothiazolinone, Copulandrone (Parfum), Copuline-alike (parfum) Reconstituted Androne (Parfum)

Color:

Clear

Taste / Aroma:

While Max is unscented, it is "pheromone infused", which does give it a very pleasant but not overwhelming smell. You won't smell anything in the tube, but it does leave a faint pleasant smell on your hands (and I guess in your penis too). I did not try to taste it. Given its similarity to hand lotions, I would not recommend that.

Performance:

Max does not give you the wet feeling of something like a water-based or silicone lube. This is more about softening the friction between hand and penis. It is not extremely long lasting, but will do well for your typical 5-10 minute session. If you are going much beyond that, you will need to reapply. Since it absorbs so well, you don't really need to wash it off (but you probably will need to clean up after you cum). This is really for enhancing the feel of jerking off with a little extra softness on the skin involved.

Safety features:

L-Arginine free / Paraben free

Special features:

Packaging:

Max comes in a very masculine black lotion tube. It is fairly discreet from a distance, but anyone looking at the package up close will clearly see that it's labeled "masturbation cream" and that it should be used to "rub one out." It is suitable for travel, but the 4 oz package might need to be checked since it exceeds the 3 oz TSA limit for carry-on baggage. There are no instructions included, but you"ll be able to figure things out pretty quickly.

Volume:

4 fl.oz.

Weight:

0.4 lb

Experience:

I liked using this to rub one out. It gives a nice sheen to the penis while you are stroking, which is a nice visual. I also liked the fact that it feels like skin on skin, but just a little bit better. There are times you want more friction and there are times when you want it wetter. For those times when you want more of the feel of friction, this is a great enhancement to the experience.