Good Clean Love Good clean love gift set - Oil from Good Clean Love

Product Details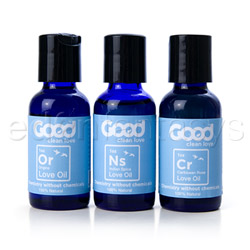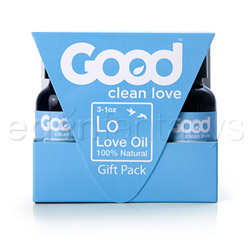 Add a touch of beautiful scent to your next intimate time together with this sampler pack. Whether used as a personal perfume, room scent, or massage oil, it is sure to enhance the mood.
Apricot kernel and jojoba oil moisturize in these blends, and combine with vitamin E to give skin a silky feel. A blend of aromatic essential oils arouse the senses and get you and your partner ready for something more. Able to be kissed and licked, these edible oils open a world of possibilities.
Each is packaged in an attractive cobalt blue glass 2 oz bottle with a click-top cap for easy dispensing. Origins has woody, earthy tones, Indian Spice has an exotic and languid feel with hints of clove, and Caribbean Rose carries the heady scent of roses with smoky undertones.
Texture / Consistency / Thickness / Viscosity:

Base:

Oil

Ingredients:

Apricot Kernal Oil, Organic Jojoba Oil, Vitamin E Antioxidant Formula, Exotic Blend of Essential Oils.

Taste / Aroma:

Flavor:

Caribbean Rose / Indian Spice / Origins

Fragrance:

Caribbean Rose / Indian Spice / Origins

Performance:

The set includes:

1 oz Bottle of Origins Love Oil
1 oz Bottle of Indian Spice Love Oil
1 oz Bottle of Caribbean Rose Love Oil.

Safety features:

Glycerin free / L-Arginine free / Paraben free / Petro-chemicals free

Special features:

Packaging: