Dr. Love lubricants Dr.Love silkening lubricant - Lubricant from Dr. Love lubricants

Product Details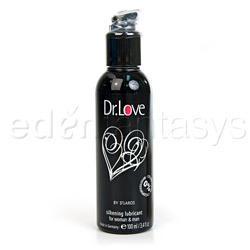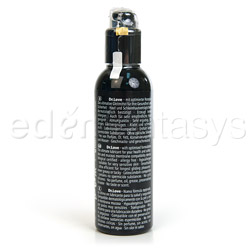 Summary:
Dr. Love Lube provides a long lasting slip and slide experience thicker than water-based lube but thinner than most silicone-based lubes. Dr. Love is perfect for use with any non-silicone toys that you might have.
Pros:
Long lasting but comes off when you want it off, doesn't get gummy.
Cons:
I wish the squirt top could be used one handed.
Best use:
Dr. Love lube is a silicone based lube which provides somewhat thicker consistency for those folks who aren't playing with silicone toys. To review what you already know, I'm sure, silicone lube and silicone toys don't play well together, so this bottle o' love is for those toys made of plastic/glass/wood or, of course, organic vegetables.
Texture / Consistency / Thickness / Viscosity:

Dr. Love Lube stands out among silicone lubes as being somewhat less thick than your average silicone based lube, though still more thick than water based lubes usually are. It doesn't require frequent re-application, though, which is nice in the heat of the moment.

Base:

Silicone

Ingredients:

Dimethicone, Dimethiconol

Color:

Clear

Taste / Aroma:

Dr. Love Lube doesn't have a significant smell of any sort. It reminds me of all the other unscented lubes out there--not quite like any naturally occurring smell but not unappealing, either.

Performance:

The most critical test, when I'm looking at a silicone based lube, is whether it passes the shower test. The shower test is actually not a check on whether this lube is good to play with in water--because it certainly is and is preferable to water based lubes in that respect--but rather whether I can wash it off after use. Success! Dr. Love Lube stays on while you want it there and comes off with some soap and water.

Safety features:

Hypoallergenic

Packaging:

Dr. Love comes in a black cylinder with a great squirt top. Though the squirt top does require two hands, it gets points from me for having a double guarding mechanism against leaking lube. Not only can you turn the push part so it's in the off position and can't be pushed down accidentally in a toy bag, but it also has a cute little cap that snaps on!