System JO JO hybrid personal lubricant - Lubricant from System JO

Product Details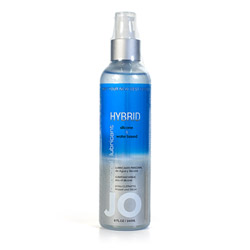 Summary:
JO Hybrid is a new idea from the good people at System Jo Products. Sadly, this one has not met the mark. Used as a lube you will discover that you and your partner both smell like beer in your genital areas. Used as a gag gift, this lube would be a riot. Want to ruin the mood of a romantic evening, use this lube. Want to laugh your head off with your partner, use this lube.
Pros:
Makes skin feel silky smooth, contains no Parabens or L-Arginines.
Cons:
Need to reapply, not enough dispensed at once, smells like beer.
Best use:
System JO Hybrid Lubricant is supposed to be somewhere in between a water based and silicone based lube. It's both water and silicone based meaning it will last longer when applied in wet places like the shower but rinse off quicker than a pure silicone lube. Used as a personal lubricant, JO provides modest lubrication which needs reapplication to the penis and longer lubrication to already moist areas such as the vagina. Because the product contains silicone, it should not be used with any silicone toys. Toys made of other products are generally fine but always check with Eden's product page just to make sure.

The ingredients include: Sodium Carboxymethylcellulose Propylene Glycol, Phenoxyethanol Sodium Polyacrylate, Dimethicone Cyclopentasiloxane,Trideceth-6 Peg/PPG-18/18 Dimethicone, Purified Water. If you are sensitive to any of these ingredients avoid use.

In addition JO may cause irritation of the skin. Be careful not to spill the product as it is extremely slippery on surfaces and could lead to falls. Also ensure that this product is kept well away from children and not ingested.
Texture / Consistency / Thickness / Viscosity:

JO Hybrid is a medium grade lubricant. It's not water thin but it's also not thick. Some might say it's just right. Against the skin, it has some tackiness to it and is only slightly slippery when applied to the genitals. A lot of this lube is needed for friction free pleasure.

The bottle itself is a push plunger bottle which dispenses a tiny amount of lube into the palm of the hand or wherever you want it. About five pushes is necessary for enough lubrication of the genitals.

Base:

Silicone / Water

Ingredients:

Sodium Carboxymethylcellulose Propylene Glycol, Phenoxyethanol Sodium Polyacrylate, Dimethicone Cyclopentasiloxane, Trideceth-6 Peg/PPG-18/18 Dimethicone, Purified Water

Color:

Clear

Taste / Aroma:

JO Hybrid smells like beer. You heard me, beer. If you're into bar room sex, this might be for you. If you can't stand the smell of beer fermenting on the bar table, steer clear. This stuff smells ripe and can be a complete turn off. The aroma is so strong that it will get into your sheets, clothes, and areas of the room which can absorb odors. Not pleasant unless you love the smell of beer. This lube also has a bitter taste and should never be ingested.

Performance:

Performance wise, JO is decent. Once enough was applied, it lasted for half the session of intercourse. Cleanup was easy for areas of the body. A quick washing with soap and water took care of everything. Clothes had to be washed however and sheets needed perfuming to rid the room of the odor.

Safety features:

L-Arginine free / Paraben free

Special features:

Packaging:

JO comes in a 4 FL oz bottle decorated with oceanic blue and silver. The front of the bottle advertises that the lube is half silicone half water based which is a great idea. The bottle claims that the lube is long lasting and makes the skin feel extremely silky. While it is not long lasting the skin does feel wonderful after use. Finally, the back contains directions and precautions.

Special Features:

JO is a flavorless Paraben and L-Arginine free lubricant. Infused with moisturizers, this lube makes the genitals silky soft at the expense of smelling like a bottle of beer.

Experience:

I can't say I had a good experience with this. At first, I wondered why on Earth my boyfriend smelled of beer when he doesn't drink it. It wasn't long before we realized it was the lube. Although it worked decent for friction free sex, it really killed the mood and will not be used again in my house.