Sinclair Intimacy Institute® Better sex essentials flavored lubricant - Lubricant from Sinclair Intimacy Institute®

Product Details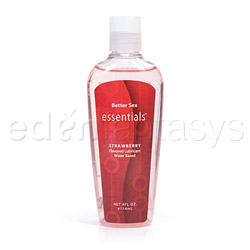 Summary:
Bring your senses into the fun with this delicious strawberry flavored lube. Water-based means it is toy and latex friendly. You are certain to have a berry good time with this one.
Pros:
Taste and smell are divine, does not get sticky, water-based and non-staining.
Cons:
Parabens and glycerin (for those that are allergic).
Best use:
Want to add a little flavor to the bedroom? How about that of fresh strawberries, without having to run to the kitchen? Better Sex Essentials flavored lube has you covered. This 4 fl oz. bottle holds a very pale pink lube that will heighten your senses while you and your partner get frisky. Perfect for adding a little flavor to oral sex or just keeping things good and slippery when needed, with a lovely scent.

This lube is water-based, latex compatible, and will not stain the sheets. It is listed on the bottle as being hypoallergenic, but it does contain parabens and glycerin that some people react to.

Texture / Consistency / Thickness / Viscosity:

This lube is rather runny. It is very thin and will not stay where you pour. You will want to be ready to rub it in right away so that it stays where you want it to be. Once rubbed in, it does bead a bit, but still keeps things slippery to get the job done.

It does dry up rather quickly, but can be reactivated with a few drops of water. It dries smooth, though, not sticky at all, and can easily be washed away with just water if needed. It is far too thin to be used as an anal lubricant, but it is perfect for PIV.

Base:

Water

Ingredients:

Purified water (aqua), Sodium carboxy methyl cellulose, Glycerin, Methyl paraben, Propyl paraben, Citric acid, Flavor

Color:

Pink

Taste / Aroma:

The smell is that of fresh strawberries. It is actually quite nice. It's not too strong; you have to get up pretty close to smell it. But when you do, it is not that fake, bubble gum strawberry smell.

The taste is lovely, also: a sweet strawberry flavor without any bad aftertaste. Think dipping fresh strawberries in some white sugar - it is pretty much that. The taste dissipates rather quickly off the tongue, but does not leave that weird, bitter taste in your mouth like some lubes do.

Performance:

This stuff absorbs very well into the skin. It does not leave behind a sticky residue at all. Depending on how you are using it, it may have to be reapplied often. Of course, if you are using it to enhance your own natural juices, you should be fine with one application.

The click top lid makes it easy to pour and put away, without having to worry about it leaking all over the place. The down side is that because it is so thin, it can easily pour out everywhere but where you actually want it, if you are not paying attention. Luckily, it tastes good, so licking it up is totally an option.

Safety features:

Hypoallergenic / L-Arginine free

Special features:

Packaging:

Volume:

4 fl.oz.

Weight:

5 oz