Hustler Dr. Flynt's love slick H2O - Lubricant from Hustler

Product Details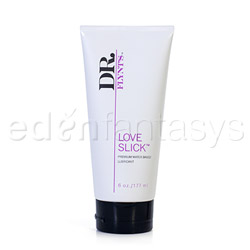 Summary:
Dr. Flynt's Love Slick H2O is a water based lube that feels more like silicone and has great staying power. Use caution while dispensing: this lube is very thin and pours out of the tube quickly.
Pros:
Silicone like texture, good staying power.
Cons:
Bad taste, alcohol-ish odor, really needs a pump dispenser.
Best use:
Dr.Flynt's Love Slick H2O is a very thin, water based lubricant. This lube is perfectly safe for use with toys or a partner. Due to the very thin consistency, Love Slick may not be the best choice for anal use. I have to say this lube almost feels like a silicone lube to me; I actually enjoy it. It offers good staying power even when used with highly textured toys such as the Whipspider Jellyfish.
Texture / Consistency / Thickness / Viscosity:

I found the silicone like texture very enjoyable when this lube was freshly applied. However, if using externally, it does become slightly tacky, leaving a residue on the skin when it dries out. Of course when using externally, be prepared to reapply more often. That said, this lube is no slacker. I applied one drop between my fingers and timed just how long I could rub my hands together. I gave up after ten minutes. When used internally no re-application was necessary.

Base:

Water

Ingredients:

Water, Propylene Glycol, Glycerin, Tocopheryl Acetate (Vitamin E), Aloe Barbadensis Leaf Juice, Cellulose Gum, Hydroxyethylcellulose, Tetrasodium EDTA, Citric Acid, Potassium Sorbate, Sodium Benzoate

Taste / Aroma:

This is one of the places this lube threw me. The aroma is almost like alcohol. My husband and I tried to figure it out to no avail. The taste is sweet, but not in a good way. This lube does contain glycerin so the taste is most likely coming from there. I also detected a film in my mouth after tasting this lube. Sadly, it didn't go away for quite some time. I would not recommend this product for oral use.

Performance:

This is a fantastic lube for clitoral stimulation, with a partner, or a toy. It lasts quite a long time providing very slick protection from friction. It feels like a silicone lube, but cleans up wonderfully with a little water, and with soap and water for toys.

Safety features:

L-Arginine free / Paraben free

Special features:

Packaging:

Volume:

6 fl.oz.

Weight:

0.5 lb

Personal comments:

Being so thin, this lube drips out of the tube quickly with no pressure. Long story short, it can be extremely messy! My tube arrived with just a thin piece of holographic tape as a tamper barrier. The little piece of plastic that is intended to stay with the lid to prevent leaking was broken off inside the opening itself. Once we dug that piece out a holy mess ensued. Once the tube was turned over, I had lube everywhere.