Westridge Laboratories Hero H2O - Lubricant from Westridge Laboratories

Product Details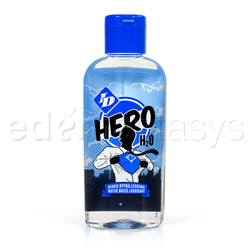 Summary:
If your partner is a super hero in bed and you get a little chafed, then Hero H2O is the lube for you. Meant for superheroes in the bedroom, Hero will last as long as your partner does. Gone are the days of going through those lube bottles at the blink of an eye. One application of Hero will last you an hour.
Pros:
Super long lasting during intercourse, fun bottle.
Cons:
Does not last long during masturbation use with toys.
Best use:
Hero H2O is a super thick, long lasting lube that is perfect for intercourse or hand jobs. Play with toys, however, is a little disappointing, as the lube just does not work well with plastic. It just dries out for some reason and does not slide well. Put it on a condom or human skin, however, and it reverses the problem; you end up with a long lasting lube.

This lube is glycerin and paraben free, so people with those types of sensitivities should be fine with the product.

This lube is not edible and should not be ingested.
Texture / Consistency / Thickness / Viscosity:

Hero is a very thick lube. One of the thickest on the market. It stays where you put it and does not drip. That being said, you must rub this lube everywhere you want it, otherwise it may not travel to your desired areas from simple gravity alone.

The lube feels velvety on the skin and is very pleasant. It does not feel like a woman's natural moisture. You know it is there and you know it came from a bottle, but at the same time it feels as if it is very high quality.

Hero is pretty easy to pour. The cap is a flip top, and the lube can be poured with one hand. It is a bit sticky, but smooths out with friction. The lube will not stain fabrics.

Base:

Water

Ingredients:

Water/Aqua/Eau, Butylene Glycol, Carboxymethylcellulose, Hydroxyethylcellulose, Ammonium Acryylyldimethyltarurate/VP Copolymer, PEG-45M, Citric Acid, Sodium Benzoate

Color:

Clear

Taste / Aroma:

Hero smells slightly sweet, but does not taste that way. This lube is bitter. In fact, it is one of the more bitter lubes on the market. Even so, it is not meant to be ingested, and so the taste of the lube is pretty much moot in this circumstance.

Performance:

During masturbation, this lube did not work as I had hoped. It dried up quickly on the toy and left me desiring more. During sex, however, the lube worked wonders. My boyfriend is like that little cute battery bunny that just keeps going and going, and we only had to reapply once during an hour! The lube also works well for hand jobs, but lasts only about 15 minutes in such cases. In totality, it is best used for intercourse.

The lube is super easy to clean off. Simply wipe it off. You don't even have to wash it off. It's no fuss and no mess.

Safety features:

Glycerin free / Hypoallergenic / L-Arginine free / Paraben free

Special features:

Packaging:

Hero comes in a clear plastic bottle with a blue flip cap top. The front boasts a city scene with a man pulling off his shirt to reveal that he is the superhero who will save the day, or at least your love life. The back has instructions and is done up in a comic book style. The ingredients are also listed. A pull tab features multiple languages.

The bottle is spill proof and travels well - a plus in most people's books.

Volume:

4.4 fl.oz

Weight:

0.4 lb

Special Features:

This is your standard lube. No bells and whistles. It really does not need any to shine.