My Hero is Ordinary
Hero H2O is a good match for what I was looking for in a lube: Water based, paraben free, a little of it goes a long way, and it's safe to use with all kinds toys. So it's three cheers for our intrepid Hero, right? Unfortunately, not quite. Hero H2O has a few drawbacks that make it more of a ordinary guy than a super hero.
Published:
Pros:
slick, paraben free, safe for all toys, cool bottle, feels natural, little goes long way
Cons:
thin, doesn't last as long as I thought it would, stings if used on irritated areas, gets sticky
Hero H2O water based lube falls a bit short of its super hero claim. It's like seeing Superman lying in bed with a head cold, or watching Batman cry over a chick flick; quite a let down from your expectations. However, this lube (and both Bruce and Clark) can still kick ass.
H2O is, as its name implies, a water based lube, and as such it's safe to use with all kinds of toys, from silicone to cyberskin. It's also paraben free - a huge bonus for people like me who have sensitive skin! It also does not contain glycerin, and is hypo-allergenic. However, if you get this lube on an area that is already irritated or has some kind of cut or abrasion, it will sting. It can sting quite a bit sometimes, although it does fade after a little while. So if you're feeling a bit raw from some rough play, I wouldn't recommend using this for a while, unless you don't mind a bit of stinging (or perhaps enjoy it).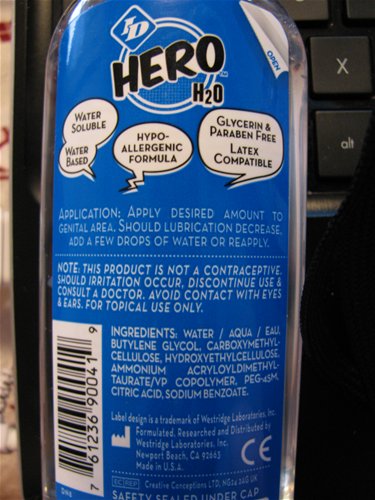 Now we get to the part that was a real disappointment for me: the consistency. It is described as being very thick on the product page, and when I read that, I instantly wanted this lube. I was very excited to get it, as I was looking for something to use during anal play. However, when I finally got my Hero in the mail, I found it to be thin and a bit runny. If I hadn't been expecting a much thicker lube, I wouldn't have any problem with it. But, in spite of my disappointment, it still works effectively. A little of it can go a long way (I usually use about a quarter sized dollop), and it feels like a woman's natural lubrication. So it's still good, despite being thin and leaving you feeling sticky after it starts to dry up.
And that brings me to my next topic: how long the lube lasts. The page says it can last up to an hour, but I found that it doesn't last quite that long. I've only ever used it for masturbation, both with and without toys, and it lasted about ten to fifteen minutes before I felt the need to reapply. (I was using the O2 Mark from Tantus when I timed it out at ten minutes, and if you have that dildo, you'll know it has a LOT of drag, and dries up very easily... So for normal toys I'd say more like fifteen minutes.) I also find that Hero dries up faster if I stop and take a break, so if you need to stop a lot for whatever reason, it probably won't last as long as usual. However, I found it lasted a lot longer when I used it for inserting a butt plug (I didn't time it but I'm sure it was more than twenty minutes and the lube wasn't even sticky yet) so your mileage may vary.
So, all in all, I'd say this is a pretty good lube. I originally was going to give it four stars, but I had to knock one off when I realized that it didn't last quite as long as I thought it did. H2O sure isn't perfect, but I'd definitely recommend it to people with sensitive skin who are looking for a decently priced water-based lube, and don't mind reapplying. Plus, it comes in super cool bottle, and who wouldn't love that?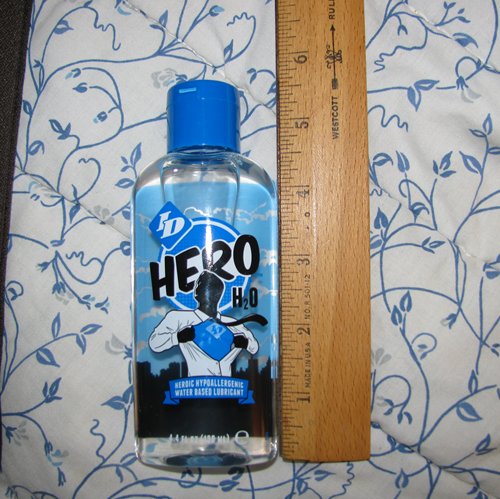 Follow-up commentary
5 months after original review
This Hero has been retired! The stinging when irritated thing got to be too much of a mood killer. I bought a better quality lube, and this one's been collecting dust in my toy drawer.
This content is the opinion of the submitting contributor and is not endorsed by EdenFantasys.com

Thank you for viewing
Hero H2O
– lubricant review page!