Doc Johnson Hot motion lotion Xmas 5-pack - Lubricant from Doc Johnson

Product Details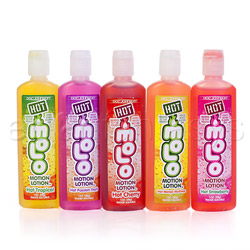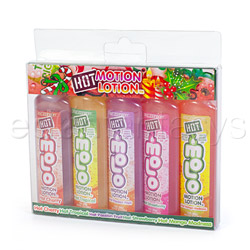 Summary:
If you like your tasting expeditions to have a bit of flavor, the Hot Motion Lotions may be what you're looking for. In addition to making licking more tasty, blowing on the body part where the lotion's been applied produces a nice warming sensation. Five flavors in generously sized bottles are included so you can find the flavor you prefer.
Pros:
Warming sensation, aspartame free, variety of fruit scents and flavors, generously sized-bottles.
Cons:
Some scents faint or overly artificial, needs frequent reapplication.
Best use:
Hot MoLo (Motion Lotion) from Doc Johnson is meant to bring a bit of flavor and heat to oral activities and can also be used as a warming massage oil; although, it will quickly be absorbed into the skin. It is safe to use with condoms and can be used for intercourse if desired; although, its thin consistency isn't as well suited for penetration and will require frequent reapplication.

Five 1 fl. oz. bottles are included in the set: Hot Cherry, Hot Tropical, Hot Passion Fruit, Hot Strawberry, and Hot Mango Madness.

The similar ingredients in each are: Glycerin, Flavor (Aroma), Mangifera Indica (Mango) Fruit Extract, Carica Papaya (Papaya) Fruit Extract, Butylene Glycol, Alcohol Denatured, and Citric Acid, Water (Aqua). The other ingredient is coloring, which varies depending on the flavor. The Hot Cherry also contains caramel.

If you are allergic or sensitive to any of the ingredients, you should not use these products.
Texture / Consistency / Thickness / Viscosity:

The Motion Lotion is thin and easy to apply. It's not immediately sticky and is easy to spread over the desired body part that is to be flavored, whether it's nipples, clitoris, or penis. While it doesn't warm much when licked, it does warm nicely when blown on and isn't too hot or uncomfortable.

It licks and wipes off easily and can also be removed with soap and water. When removed, skin doesn't feel dry or sticky.

Base:

Water

Ingredients:

Glycerin, Flavor (Aroma), Mangifera Indica (Mango) Fruit Extract, Carica Papaya (Papaya) Fruit Extract, Butylene Glycol, Alcohol Denatured, Citric Acid, Water (Aqua), May Contain: Caramel, Red 33 (CI 17200), Red 40 (CI16035), Yellow 5 (CI 19140), Yellow 6 (CI 15985)

Taste / Aroma:

Hot Cherry is red in color and lightly scented like cherry hard candy. It tastes like cherry candy as well and creates a bit of kick on the tongue.

Hot Tropical is yellowish orange, and smells strongly of pineapple. It is the strongest smelling flavor in the pack. The taste is tangy pineapple.

Hot Passion Fruit is fuschia in color. It smells sweet, but the scent is indeterminate and light. It tastes like Fruity Pebbles cereal.

Hot Mango Madness is orange/red in color and almost scent free with just barely a hint of mango. It has a strong flavor of sweet melons.

Hot strawberry is a pinkish red and has a pleasantly sweet strawberry scent. It tastes like strawberry quick with a bite and is quite yummy.

Flavor:

Cherry / Mango / Passion fruit / Strawberry / Tropical fruit

Performance:

The Motion Lotions don't last a very long time. As you lick and suck, you remove the product. Some of the flavors taste better than others; but, none of them are overwhelming, as they are removed with the tongue. These will need to be reapplied if you want to continue to taste them and also if you wish to keep the warming effect going.

Packaging:

The Hot Motion Lotion set comes in a clear plastic box. An insert is visible through the back and has some information on the products inside, as well as the ingredient list.

Each bottle inside is sealed in plastic wrap. The bottles are made of plastic and have a flip-top cap. Each has "Hot Molo" and the flavor on the front. The back of each lists the ingredients. The bottles stand up easily. The bottoms are stamped with an expiration date.

The tops of the bottles have a wide opening, making the contents easy to pour. The flip-tops aren't secure enough for travel, and the bottles should be placed inside a plastic bag if traveling. The bottles should be stored upright to prevent leakage in a cabinet or drawer.

Volume:

1 fl.oz.

Weight:

0.6 lb

Special Features:

The Motion Lotions are called "Hot" because they produce a warming sensation when they are applied and blown gently upon. The sensation is mild, but arousing.

Personal comments:

I liked the Hot Strawberry the most, surprisingly to me. It tasted the best, although didn't last any longer than any other flavor. My husband preferred the taste of the Hot Passion Fruit. I thought that one was much too sweet, but he liked its sweet-cereal taste.

None of the flavors were horrible to us, even if we didn't think they tasted like what they were supposed to. The warming sensation was pleasant and not overwhelming.