Intimate Organics Hydra - Lubricant from Intimate Organics

Product Details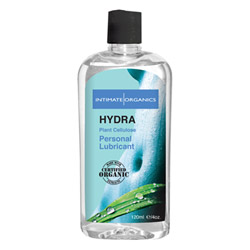 Summary:
Hydra is not the longest-lasting water-based lube on the market, but its other attractive features more than make up for that drawback: it's slick, body-safe, and free of things you want a lube to be free of.
Pros:
Very slick, naturally derived ingredients, glycerin-, paraben-, and DEA-free.
Cons:
Gets tacky after a few minutes, but can be reapplied or reactivated.
Best use:
Hydra is a water-based lubricant suitable for oral, anal, or vaginal sex. Since it's water-based, it is safe to use with all toys. Hydra boasts an impressive ingredients list: all of the components are natural or "naturally derived" (Intimate Organics' wording). The natural ingredients include water, goji berry extract, lemongrass extract, and aloe. The "naturally derived" ingredients consist of propylene glycol (used as a moisturizer), hydroxyethylcellulose (a gelling agent), methylisothiazolinone (an antibacterial), phenethyl alcohol (another antibacterial), and PPG-2-methyl ether (a solvent). That last list may sound chemically and scary, but each one of these ingredients has been used in cosmetics and soaps for years and have been tested and proven body-safe. Additionally, Hydra is glycerin-, paraben-, and DEA-free, so there's nothing to cause any sort of adverse reaction.
Texture / Consistency / Thickness / Viscosity:

Hyrdra is a little on the thin side, so be careful dispensing it from the bottle (it's fairly easy to squeeze out too much). Given this thinness, it may not be the best choice for anal play, but it's certainly safe to use. Once applied to the object in question (toy, penis, etc), Hydra is very, very slick and despite its thinness is not particularly runny. It's not sticky or greasy upon application.

Base:

Water

Ingredients:

Aqua (Water), Propanediol (Natural Humectant), Cellulose Gum, Sodium Benzoate, Citric Acid, Alcohol, Certified Organic (GojiBerry) Fruit Extract (and) Certified Organic Cymbopogon Schoenanthus (Lemon Grass) Leaf/Stem Extract (and) Certified Organic Aloe Barbadensis (Aloe) Leaf Extract

Color:

Clear

Taste / Aroma:

Hydra has a very slightly sweet taste and a slightly medicinal aroma. Both taste and smell are very faint and easily ignored and do not detract from the overall experience. If you're looking for a lube specifically for oral, Hydra won't make anything taste worse, but it's not going to make anything taste better.

Performance:

Herein lies the only drawback of Hydra: after two or three minutes of use, it starts to become tacky. This isn't going to be as much of a problem for oral and vaginal use, since the mouth and the vagina produce at least some lubrication on their own (Hydra will reactivate in the presence of moisture). It's more of a problem for hand-jobs and anal use. If you don't mind reapplying or using water to reactivate the lube, no problem. Hydra dries on the skin without leaving a residue or smell, so you don't feel compelled to wash yourself off immediately. Since it's water-based, it can't stain fabric.

Safety features:

Glycerin free / Paraben free

Special features:

Moisturizer
Organic
Vegan

Packaging:

Volume:

4 fl.oz.

Weight:

0.3 lb

Experience:

I can be somewhat leery of organic personal-care products (in my experience many do not do as good of a job as their synthetically made counterparts), but Hydra won me over. For me, the benefits (slickness, body-safe ingredients) outweigh the one drawback (having to reapply). The fact that Hydra is USDA certified organic is icing on the very slick cake.