System JO JO H2O cool anal lubricant - Lubricant from System JO

Product Details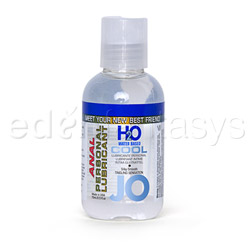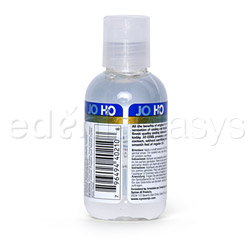 Summary:
I would consider this an average lube. It does a decent job but I wouldn't say it's at the top of the class as far as anal lubes. I was also somewhat disappointed with the "tingling sensation" promised by this product as it was only faintly noticeable when applied to the head of my penis and completely imperceivable when applied elsewhere.
Pros:
Water based and easy cleanup.
Cons:
Cooling/tingling sensation not very perceivable.
Best use:
This product is intended for anyone engaging in anal activity. Since the rectum does not produce its own lubrication, some kind of lube is generally recommended for comfort. Being water based, it is compatible with most materials including latex condoms and silicone toys, but is not well suited for use in the shower or any other wet environment.
Texture / Consistency / Thickness / Viscosity:

This lube claims to be more viscous than their standard lube. I found it to be quite a bit less viscous than the lube we typically use for anal activity. It does pour easily out of the container however it does not stay in place so you'll need to rub it into whatever you're lubing up pretty quickly to achieve a thin coating. This lube feels smooth on the skin without feeling too greasy and it is definitely not sticky. It doesn't really leave much of a residue if it dries on your skin, however I did notice that it left a slight odor, similar to Vicks Vaporub or a cough drop, probably due to the menthol.

Base:

Water

Ingredients:

Methyl Paraben, Propyl Paraben, Sodium Carboxymethyl Cellulose, Propylene Glycol, Menthol, Purified Water

Color:

Clear

Taste / Aroma:

The taste and aroma are reminiscent of a Halls cough drop, probably due to the menthol. It is not overpowering, rather it is faint and not really very noticeable.

Performance:

The performance of this lube was somewhat disappointing compared to the lube we typically use. We found we had to reapply about every 5-10 minutes. Other than that, it was similar to most water based lubes we've used in that it cleans up easily with water and absorbs into the skin without becoming sticky.

Safety features:

Glycerin free / L-Arginine free / Petro-chemicals free

Special features:

Cooling
Moisturizer
Tingling sensation

Packaging:

The cap for the bottle is similar to that which you would typically find on a hand sanitizer bottle; pushing down on one side of the cap opens up the other side from which the lube is dispensed. It seems to work well enough. I haven't had any leakage issues but I always keep bottles of lube in zip top bags, just in case. I wouldn't call the bottle discreet as it does have the words "Anal Personal Lubricant" written on the front. However if it were sitting on a shelf with bottles of shampoo, soap, and lotion it wouldn't really stand out (i.e. no pictures of half/fully nude women or men on the bottle.)

Special Features:

The packaging claims that this lube will provide a "tingling sensation". I found that the only time I noticed anything approaching a tingling sensation with this lube was when it was applied to the tip of my penis and only then was it faintly noticeable.