K-Y Brand K-Y yours and mine - Lubricant from K-Y Brand

K-Y yours and mine videos
Product Details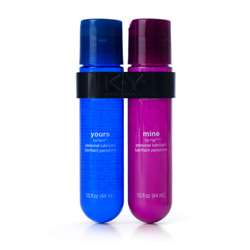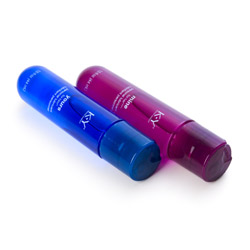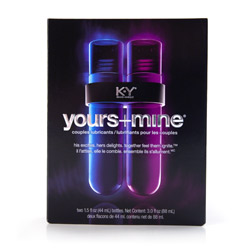 Summary:
Ignite your passion and dive into a world of ice and flames. Mix both of these lubes to increase sensation and journey into a world of unbelievable satisfaction. Your and Mine is an innovation in the lube industry. Never before has there been so much staying power and intensity in a little bottle of lube.
Pros:
Cooling, Long lasting, Intense sensation.
Cons:
Bottles do not stand on their own.
Best use:
For many women, sensation in the vagina is limited and the only way to get real pleasure out of sex is through clit stimulation. Those days are long gone! K-Y Yours and Mine is a combination of two lubricants, warming and cooling, which when mixed together, create an explosion of sensation. Use on the penis, vulva, and nipples for extra sensation and arousal. Both partners will feel enhanced arousal and she will feel intense sensations vaginally in just a few minutes. It won't be rare to feel his every vein inside of you; it makes you that sensitive. When you're alone simply mix the two lubes together on a dildo or pocket pussy.

This lube is very slippery and long lasting. It is thinner than some lubes and does drip but Honey, that won't matter. This stuff is wonderful! You will hardly ever need to reapply but I guarantee you, once you feel that cooling sensation, you will grab the bottle for more!

This product does contain menthol, therefore if you are sensitive, please steer clear. The lubes also contain glycerin, honey (honey is a natural antibiotic and does not have the same bacteria growing properties of sugar), and fragrance which could cause allergic reactions in some individuals.
Texture / Consistency / Thickness / Viscosity:

This is a thinner lube and you will experience some dripping action with it; however it will not run all over you or the bed. Thin enough to give you plenty of silky coverage but thick enough to still do the job. Sadly, the combination does get a little greasy, so you will want to thoroughly wash it off of yourself and any toys it comes into contact with.

Base:

Water

Ingredients:

Yours: Glycerin,Propylene Glycol,Maltodextrin,Honey (Miel), Methylparaben, Sucralose. Mine: Water, Propylene Glycol, Polysorbate 60, Hydroxyethylcellulose, Benzoic Acid, Menthyl Lactate, Methyl Salicylate, Parfum (Fragrance), Sodium Hydroxide.

Color:

Clear

Taste / Aroma:

The lubes come with two distinct names, Yours for Him, and Mine for Her. Yours is odorless whereas Mine smells like, well, mild tiger balm. If you like the smell of tiger balm, then you'll love this stuff. If not, the performance overrides the smell. This product is not intended for ingestion. The lubes taste extremely sour and bitter at the same time.

Performance:

Yours and Mine will last the user at least a good 30 minutes if not longer with just a single application. No looking for the lube bottle in the heat of the moment here. Once you've reached your frigidly cool ecstasy, simply wash off with warm water and enjoy the last burst of sensation. Your skin will remain feeling cool and fresh well into the night. Perfect for intense nights of passion, prolonged intercourse, erotic moments with a toy, and as an arousal enhancer.

The set includes:

2 Bottles 1.5-Ounce each.

Special features:

Cooling
Edible
Tingling sensation
Warming

Packaging:

Yours and Mine arrives in a sexy little black box with a picture of two lubes, locked together in an eternal embrace. The box comes complete with instructions and a peek a boo window. The lubes themselves can be separated from their locking device if needed otherwise keep them bound together in the kinky fun. Yours comes in blue, pop top, cylinder whereas Mine is purple. The downside to this lube is that the bottles do not stand up and you will always have to ensure they are closed if you don't want your prize lube to leak. Store in the box, which stands them up, to prevent leaks. This item can travel in the box and can be easily wrapped for gifting.

Special Features:

The ingredients of both lubes are: Glycerin, Propylene Glycol, Maltodextrin, Honey (Miel), Methylparaben, Sucralose, Water, Propylene Glycol, Polysorbate 60, Hydroxyethylcellulose, Benzoic Acid, Menthyl Lactate, Methyl Salicylate, Parfum (Fragrance), Sodium Hydroxide.

Although Yours is supposed to be warming, it really isn't. Instead it does its magic without heat. After a moment of application you will feel intense pleasure and more aroused. Mine adds intense cooling action.

Experience:

This is my new favorite lube. I added the warming to myself first and was disappointed. I didn't feel anything. Then, my clit started to sing. It just wanted to be touched. He added the cooling to him and slipped inside me. The cooling lube was fantastic. It made me so aware of his every stroke that I could literally feel his throbbing veins inside of me. Needless to say, I grabbed the lube for more! After a while I was in ecstasy.