Classic Erotica Max G stimulating prostate gel - Lubricant from Classic Erotica

Product Details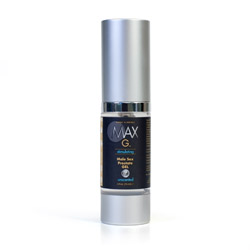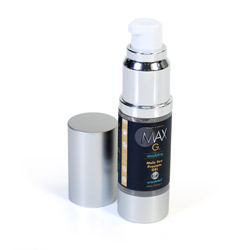 Summary:
Max G is a fine stimulation gel geared towards the prostate. Clove oil, Niacin, and other extracts are used to bring blood flow to the prostate. This increases pleasure and stimulation, and brings new levels of enjoyment to sex or solo time. A warming sensation is an added bonus, plus you are safe with condom and toy use.
Pros:
Made for men, warming sensation, works as lube too.
Cons:
Warming sensation could last longer.
Best use:
For the ladies there are plenty of products that stimulate the clitoris and G-spot; Classic Erotica decided it was time for guys to have something, too. After all, they say the Prostate is the male G-spot, right? Seems to me that something would work for the guys too, eh?

Guess what? There is something, and the Max G Stimulating Prostate Gel has it. Even better, it is so easy to use! Just apply like lube to the anus and perineum, then work it in and around the prostate with fingers or toys. Immediately you will feel the warming sensation spread through the pelvic region. As arousal increases, the sensations to the P-spot increase as well. But don't just stop there: apply to penis, testicles or nipples for "all over" enjoyment.

Please note that the bottle has a warning about not being used by persons with aspirin allergies, on prescribed blood thinners, or having an STD. Contact with eyes is not a good thing, either.
Texture / Consistency / Thickness / Viscosity:

As you might expect, Max G is a gel much like Maximus lube. It stays where you put it and will not run all over. To the fingers it feels just like any other lube, and in fact you can use it as such. As a lube I would say it rates about mid class; it drys out after time and gets a bit sticky, but a drop of water will reactivate it easily enough.

Base:

Water

Ingredients:

Water(Eau), Propylene Glycol, Hydroxyethylcellulose, Beta Vulgaris (Beet) Root Extract, Camellia Oleifera Leaf Extract, Dimethicone, Eugenia Caryophyllus ( Clove) Flower Oil, Glycerin, Honey Extract, Niacin, PEG-45M, Pyrus Malus (Apple) Fruit Extract, Rosmarinus Officinalis (Rosemary) Leaf Extract, Tetrasodium EDTA, Tocopheryl Acetate, Triethanolamine, Vanillyl Butyl Ether, Diazolidinyl Urea, Sodium Benzoate

Color:

Translucent

Taste / Aroma:

A slight odor can be found: clove, maybe? I am not too sure what I smell, but I do smell something. Certainly nothing to distract you from the business at hand. Taste wise, there is an "herbal" aftertaste, kind of like you get when taking vitamins. Once again, nothing to stop the festivities.

Performance:

On the outer areas I used Max G on, there was definitely an immediate warming sensation felt. This is kind of like a light burning feeling that you don't want to stop. Really, about the time I started to worry about it being too hot, I noticed that the feeling was rather pleasurable. I added more at that point.

As far the prostate goes, this took a bit more effort. Getting it in place and not everywhere else in the rectum is not that easy, really. A finger or toy will work, but as you slip the toy/finger inside, the gel spreads all over the toy/finger and most of it ends up on the anus. To solve this issue I used a lube shooter, laid on my stomach, and was able to apply it directly to my prostate. This was a whole new experience for me, and I found it very stimulating.

The warming sensation only lasts about five minutes or so, but the gel keeps working long after. Just reapply if desired. I do quite often.

I felt no need for clean up, but since it is water based that is pretty easy.

Safety features:

L-Arginine free / Paraben free

Special features:

Moisturizer
Tingling sensation
Warming

Packaging: