Love To Love Play with me intimate lubricant - Lubricant from Love To Love

Product Details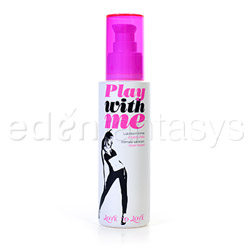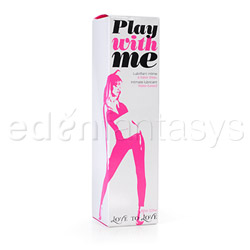 Summary:
Those who are very sensitive to glycerin should probably avoid this, but anybody else who's been looking for a good water based lube that doesn't get sticky or tacky or lose its wonderful consistency should definitely take a closer look at this one. It's hard to find a long lasting water based lube, but Love to Love has done it!
Pros:
Lasts and lasts and lasts, bottle is nice to look at.
Cons:
Glycerin, ingredients not printed on bottle.
Best use:
As a good ol' basic water based lube, Play With Me can do anything a good water based lube can. It's great for use with condoms, without condoms, on toys, with your fingers, and I'm sure a few other ways I didn't think of. It's long lasting, so it wouldn't be a poor choice for anal play, and the bottle is just fun to look at. The only place I wouldn't try it out is in a water filled environment. A little bit of water will help reactivate it; a lot of water will wash it away.
Texture / Consistency / Thickness / Viscosity:

It comes out of the bottle nicely, and while it doesn't stay in place very well it doesn't immediately take off running, either. It has a surprisingly nice consistency to it: smooth, silky, velvety almost. Between the fingers you can rub it for a minute or more before it starts to sink in and you might need to apply more, which makes it a good candidate for hand jobs as well.

Base:

Water

Ingredients:

Aqua, Propylene Glycol, Glycerin, Hydroxyethylcellulose, Benzyl Alcohol, Sodium Benzoate, Potassium Sorbate, Citric Acid.

Taste / Aroma:

There's really no smell to it at all, and not really much to taste either. I'd avoid ingesting it if you could, but if you accidentally ate some of it, it wouldn't be the end of the world.

Performance:

I was very impressed with how well this lube performed. It did a wonderful job of mimicking my own natural fluids, but it never had to be reapplied no matter how many times we switched positions or how many times I finished. With a lot of the lubes I've tried, I've had to reapply between orgasms. This one lasted the whole time, and with just one or two pumps at the beginning of the session. Didn't dry out, get sticky, ball up, or do anything else unpleasant.

Being water based, it also cleans up well. Since it doesn't dry right up, my husband and I ended up wiping excess off of ourselves when we were done. It came right off with a wet wipe or a towel. With the wet wipe though, it reactivated it for a few moments until I could rub it off the rest of the way.

Safety features:

L-Arginine free / Paraben free

Special features:

Packaging:

The outer box isn't extremely discreet, but it's not overly obvious or tacky either. It says that it's a water based intimate lubricant, ideal for your games alone or as a couple, and is compatible with condoms in compliance with French standards. The box even has a pamphlet that gives instructions (one pump should do) in 8 languages, and a sampling of other products.

The bottle itself has pretty much all of the information that the box does, including an expiration date (mine shows as January 20th, 2013 being received in April of 2012), holds 3.3 fluid ounces, and that this product is neither a spermicidal or a contraceptive and doesn't protect against STIs. It has a brightly colored cap that keeps the pump top from dispensing in storage.

The one thing the box has that the bottle doesn't is the list of ingredients. The bottom of the box boasts that it's colorant and fragrance free and has a neutral PH, and lists the ingredients as: water, propylene glycol, glycerin, hydroxyethylcellulose, benzyl alcohol, sodium benzoate, potassium sorbate, and citric acid.

If you have issues with glycerin you may want to avoid this, but otherwise it appears to be pretty body safe.

Volume:

3.3 fl.oz.

Weight:

4.8 oz

Personal comments:

Here's a picture of the bottle, and of the lube in my hand. It had been dripping just a few seconds in that photo.



Experience:

I think this may be one of my new favorite lubes. The bottle is cute, and it just lasts and lasts and lasts. This is a lube that I would feel comfortable giving to friends who I know are a bit more open to receiving gifts of this nature, and wouldn't be embarrassed to have people see if I forgot to put it away. It works so well and against all stereotypical water based lube tendencies that I have a hard time knocking it at all, even for the glycerin.