Icon Brands V Ultra Sensitive Gel - Lubricant from Icon Brands

Product Details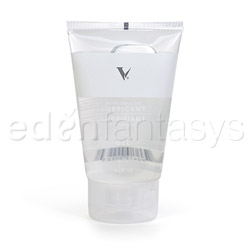 Summary:
If you are looking for lubricant that won't cause allergic reactions or sensitivity issues, then this lubricant is quite possibly what you are looking for. It works great if reapplied frequently. The only negatives to this lubricant are that it does not last long and that it may not be slippery enough for anal play.
Pros:
Perfect for people with sensitive skin, feels almost like lotion, not messy, not sticky
Cons:
Not good for anal play, does not last long
Best use:
V Water-Based Ultra-Sensitive Lubricant Gel is best for using with toys, masturbation, or vaginal sex. While it is slippery enough for the previously listed activities, I'm not sure I'd feel comfortable using it for anal sex. It seems to cease being slippery after a short while and is not extremely slippery to begin with. This product is great in that it can be left on your naughty parts without that sticky, slimy feeling that most lubricants will leave behind. As the name suggests, this product is intended for individuals prone to allergic reactions or chemical hypersensitivities. It washes off quite easily, so I don't think it would be good in the bath or shower.
Texture / Consistency / Thickness / Viscosity:

This lubricant is very smooth. While I would not go as far as the manufacturer to suggest that it feels as good as a skin lotion, it definitely is much closer to this than any other lubricant I've ever used. It is slippery enough for most activities. It does not feel sticky or greasy once in use. The squeeze bottle is easy to use, making it easy to acquire the correct amount of lube without getting too much. One negative point that should be made is that it is not thick enough and does not have the viscosity required for use in anal play.

Base:

Water

Ingredients:

Purified Water, Propylene Glycol, Hydroxyethylcellulose, Linocera Caprifolium and Linocera Japicona Extracts (Honeysuckle)

Color:

Clear

Taste / Aroma:

It seems to have a sweet taste based on the little bit that got in my mouth. It was not unpleasant. And I didn't notice an odor when applying it.

Performance:

This product works great for short periods of time. It does seem to wash away quite easily and will need frequent reapplications. But on the other hand, it is easy to clean off and feels fine if just left on. The product is great for getting started for vaginal penetration (before all the body fluids are pumping out). I was able to glide right into my wife's vagina without obtaining a full erection, and it lasts long enough for the body to start producing the homemade lubricant that starts coming during sex. But if dryness is a constant problem, then this product will require multiple reapplications. Again, I wouldn't recommend this for anal play! If you have any type of sensitivity or allergy, then this lubricant is the perfect choice. It is made specifically for such cases.

Safety features:

Glycerin free / Hypoallergenic / Paraben free

Special features:

Packaging:

The V Ultra-Sensitive Lubricant Gel comes with a whole booklet touting the benefits of their lubricants. It discusses how the packaging is recyclable and states that their bottles are clear so you can see exactly what you are buying. It also discusses how the lubricant feels as nice as lotion on the skin. In regards to this specific type of lubricant, it states, "Developed for ultra-sensitive individuals prone to allergic reactions or chemical hypersensitivities with the same exquisite natural and gentle silky feel as our signature water-based lubricants. Derma-tologically formulated with moisturizing properties, V will never dry out or become sticky. Instead, it absorbs nicely into the skin with no film or sticky residue, requiring no clean-up or washing afterwards."
The ingredients listsed on the package are "Purified Water, Propylene Glycol, Hydroxyethylcellulose, Linocera Caprifolium and Linocera Japonica Extracts (Honeysuckle/chevrefeuille)"

Volume:

5 fl.oz.

Weight:

0.4 lb

Special Features:

As mentioned previously, this lubricant is intended for people with allergies or hypersensitivities.

Experience:

Our experience with this lubricant involved vaginal intercourse, and it felt quite good. My penis slid right into my wife without any discomfort or force required, but it didn't seem to stay slippery long.