Bound by diamonds wrist cuffs by Cal Exotics - reviews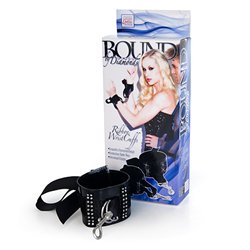 Bound by diamonds wrist cuffs
Wrist cuffs by California Exotic
Please, let me know via email when the new review on this product is available.
Bound by diamonds wrist cuffs reviews
I'd wouldn't recommend this product to anyone. I was highly disappointed in its craftsmanship and I had so much higher hope for it. You can't even use it as a wrist cuff because any pull on the ribbon it will loosen up or rip. This product would be good if you want to wear something pretty on your wrists, but definitely not was a bondage restraint.
For use by themselves, I don't see the point. For me personally, I don't see what binding your hands together in front of back of you would do. However, they can be swapped out with the existing cuffs on a system, although this is probably not necessary unless you are going strictly for the eye candy.
With the Bound by Diamonds collection, Cal Exotics was trying to make a pretty set for the beginners interested in testing the bondage waters. Unfortunately, the result was a poorly designed, poorly made set of cuffs. They are uncomfortable, with sharp, unfinished edges that chafe. The ribbon fastening does not stay put. The "Diamonds" are very cheap rhinestones better suited to toddler dress-up than adult sex accessories. At best, these are a prop, and a mediocre one at that.