Deluxe pony hobbles - ankle cuffs by Sinvention - reviews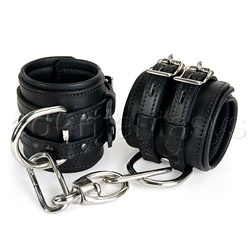 Deluxe pony hobbles
Ankle cuffs by Sinvention
Please, let me know via email when the new review on this product is available.
Deluxe pony hobbles reviews

These are extremely large hobbles. You can also use these as either wrist or ankle cuffs though. When I say big though, I mean it. They probably weigh about a pound, and they're built to last a lifetime. The leather is extremely thick, and so are the chains that hold them together. These should hold up for extremely heavy restraint. Just don't underestimate their size.
Though they're the most expensive cuffs Edenfantasys has to offer, there's a reason! The pony hobbles are Sinvention's "extreme" pair of cuffs, with two locking buckles each, high quality leather, and bells and whistles to boot. They're a sturdy, beautiful pair of cuffs that are a lifetime investment. For BDSM enthusiasts, they're the perfect pair of cuffs.
The Deluxe Pony Hobbles are a striking piece of training gear for ponies and their trainers. These hobbles are lined in thick, soft leather which prevents chaffing, making these ideal for long training sessions. While ponies may be initially reluctant to wear them, the fact that they're crafted so well makes them moderately easy to adjust to and because they look so attractive, trainers will have to search for good reasons to ever take them off!