Never Have the Same Sex Twice - erotic book - reviews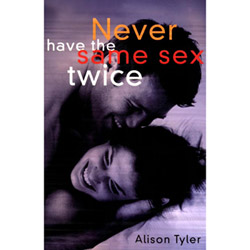 Never Have the Same Sex Twice
Book by Cleis Press Inc.
Please, let me know via email when the new review on this product is available.
Never Have the Same Sex Twice reviews
While this book will not magically prevent you from having the same sex twice, it will get you thinking about ways to keep the fire burning in your relationship. While the chapters and the stories do not always match up well, the erotica should keep you turning pages.
I really like this book. I dog-eared a lot of pages, a hell of a lot of pages. I got a lot of great tips from Alison and other authors, and I was also bored at times when I already had those tips ingrained in my brain. Overall it was a pretty good book, and it has got a bit of something for everyone.
"Never Have the Same Sex Twice", while a unique idea in the way we approach the idea of sex advice, seems to be a bit too awkwardly formatted for me to really get to enjoy the erotica or the sex advice. It does have quite a few erotic stories that make it worth reading though.