Orgasmic - erotic fiction - reviews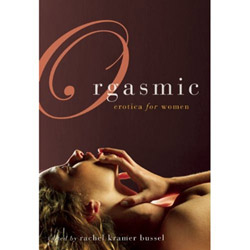 Orgasmic
Book by Cleis Press Inc.
Please, let me know via email when the new review on this product is available.
Orgasmic reviews
Orgasmic is an erotic anthology edited by Rachel Kramer Bussel that focuses on women having orgasms. There is some pretty good variety in the stories and I think that most people will enjoy it. If you like a collection that features only really intense erotica or that has more variety in the sexual orientations of the characters then it might not be the best one for you.
Although reading Orgasmic wasn't very orgasmic for me, it was a great introduction to erotica. Since it has multiple authors and topics, for every story I did not enjoy there was one that I did. I was expecting something a bit more explicit, and was disappointed by a few stories which seemed to be more romance novel than erotica. Orgasmic was not the most arousing, but every short story was at least thought provoking.
Orgasmic: Erotica for Women is a collection of erotica that focuses on the female orgasm. It includes a different variety of plots intended to arouse both genders.