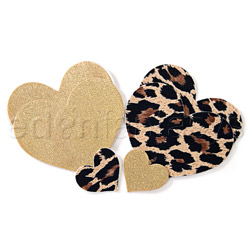 Leopard heart pasties
Pasties
by Bristols 6
Need more opinions?
Please, let me know via email when the new review on this product is available.
Leopard heart pasties reviews
Want to add a fun twist to your dress up? These Nippies are a fantastic choice for special occasions, or even regular ol' evenings you want to turn into special occasions. They'll hold up for a long time, but only for one wear which sucks. But not being reusable is pretty much the only downside to these pasties. They're very comfortable, and will last the whole night and longer!
I really enjoyed using these pasties, and my partner enjoyed it even more. They were a huge hit in our bedroom and now that I've figured out how to apply them properly, I'll be definitely getting more in the future.
New-style pasties with adorable patterns that go on and off with ease. Surprisingly simple and resilient, even staying on in the pool.