Liberator Bedroom Adventure Gear Liberator Flip Ramp - Position pillow from Liberator Bedroom Adventure Gear

Liberator Flip Ramp videos
Product Details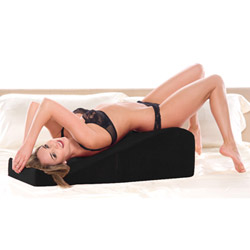 Summary:
Whether you leave it folded in its discreet cube shape or take full advantage of the long contoured ramp, the Liberator Flip Ramp gives firm yet comfortable support for a wide variety of sexual positions.
Pros:
Great for reclining and kneeling, firm support, moisture resistant, machine washable covers.
Cons:
A bit heavy, microfiber collects lint.
Design / Craftsmanship / Material:

There are actually five pieces to the Flip Ramp's design: Two separate latex-free foam pieces with a zippered nylon cover for each, with one large removable microfiber cover that holds it all together. There are separate zippered "compartments" at each end of the microfiber cover to put the nylon-covered foam pieces in, with a joining seam in between. The joint is on the top side of the ramp (as you're looking at it unfolded), and is smooth and tight so you don't notice it at all when you're laying on it.

And though the microfiber feels much like thick velvet, there's nothing at all delicate or flimsy about the Flip Ramp, so it's likely to stand up to years of use without any issues.

Unfolded, the contoured shape of the ramp makes it pretty comfortable to lay on, but you'll need a bit of space to manage it off of a bed since it's about 38" long and a full 19" wide. The rounded "high side" of the ramp is approximately 11" tall, curving down to a 4.5" lip at the bottom.

Though it's too big to be easy to hide even folded up, if you cut off the small Liberator ribbon tags that are tied to the zipper pulls, even your own mother would be unlikely to figure out it's a sex tool. Sure, she might notice that it opens up, but it could be easily passed off as a gaming chair, which it actually does work well as if you add a pillow to the high side of it before sitting back.

Material:

Foam

/

Microfiber

/

Polyester

Length:

19" / 38"

Width:

19"

Height:

11" / 14 1/2"

Weight:

22 lb

Performance:

Weighing a little over 20 pounds, this isn't something that you're going to casually toss around, and it stays put well on all but the slickest surfaces. The foam is firm, much more so than the average sofa or arm chair, so it can also take a considerable amount of weight without losing its shape.

Surprisingly enough, even though the Flip Ramp isn't one solid piece it doesn't tilt or shift between the two halves, and the center point doesn't have any "play" in it at all.

Love pillow special features:

Moisture-proof / Washable

Care and Maintenance:

Both the microfiber cover and the nylon inner covers can be spot cleaned with a damp cloth, but you can also remove them for machine washing if you need to. For either, you can set your machine on a cold water delicate cycle (no bleach), and then lay them out to dry. The microfiber cover could optionally be put in the dryer on a cool setting.

Experience:

Alan says:
We've had a helluva good time figuring out all the ways we could use this thing, though at times it felt like we were playing a game of Twister. When we first got it we tried 69 because I thought I could lounge on it and have her ass in my face, but we didn't line up quite that way. No luck when we changed places either. Then we switched around and I discovered my favorite use for it; standing oral. As in, I can recline with her standing over me and I get the best view and access imaginable. It's outstanding for rear entry positions no matter which way you lean over it, and makes a decent spanking seat when it's folded up too.

At one point we wound up with the Ramp against the side of the bed, Michele kneeling on its high side with her forearms on the bed, and me kneeling on the low end of the ramp eating her from behind. Younger folks might not give a hoot about having a prop for that sort of position, but old kneecaps appreciate the cushioning. The folded cube is firm enough to sit or kneel on for any over-the-side-of-the-bed play too.

Michele says:
Well I think Alan covered most of what I would have given the Flip Ramp kudos for, but he neglected to mention that it's also nice for him to receive oral on. It's easier for me to work on him head to toe when he's reclining like that.

As far as penetrative sex goes, besides doggie positions the only one that feels better to me on the ramp is the sitting cowgirl position, which the Ramp seems to help us go deeper with. It's absolutely *not* comfortable for me in that crotch-up position that the product photo model is displaying, but maybe it would be ok for somebody taller. Still, we're getting enough use out of it in so many other ways that I'm not going to dwell on how it *doesn't* work for us. We've even used it in its cube form as a bedside table for drinks and supplies during massages. Really, this thing is mega versatile, and I'm sure we haven't even found all of its uses yet.