Liberator Bedroom Adventure Gear Liberator heart wedge - Position pillow from Liberator Bedroom Adventure Gear

Liberator heart wedge videos
Product Details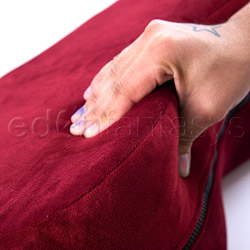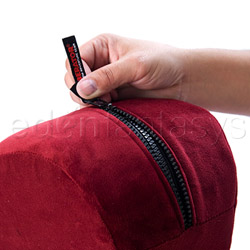 Summary:
I've never been particularly acrobatic when it comes to the art of lovemaking. Barnum & Bailey won't be calling anytime soon but that hasn't stopped me from aspiring to new and more interesting sexual heights. After spending more years than I care to count making due with a few pillows under my butt, the Liberator Heart Wedge is a breath of fresh air. It provides firm support, a lusciously soft and easily washable surface, and is a terrific tool for creating a wide range of positions and angles.
Pros:
Soft cover, effective design, firmness accommodates various body types.
Cons:
Users may be aware of poking from the base of the heart when in certain positions.
Design / Craftsmanship / Material:

As the name would suggest, the Liberator Heart Wedge is exactly that - a firm foam wedge shaped like a heart. That high-density, polyurethane foam core is encased in a smooth, black, water-resistant nylon liner. Outside that nylon layer is a second cover - a deep red, soft cotton/nylon microfiber. The outermost cover has a luxuriously velvety texture, yet it also stain resistant and can be removed for easy cleaning.

The foam and covers are completely odorless.

While the pictures suggest a very traditional, almost cutesy heart shape, up close the wedge has a much flatter look. It's still very much a heart, but the designers seem to have chosen to enhance performance rather than adhere too slavishly to what a traditional heart looks like. The two wings of the heart are wide enough apart to provide good support for spread-apart thighs. The angle of the wedge is sharp enough to thrust the pelvis up to a very accommodating level.

Material:

Foam

/

Microfiber

/

Nylon

Length:

13"

Width:

19"

Height:

7"

Weight:

1.5 lb

Performance:

The first thing I looked for when trying out the Liberator Heart Wedge was the degree to which it did what it claimed to do. Did the Heart Wedge provide adequate support? Did it make new positions possible and familiar positions easier?

Ladies and gentlemen, it did.

When trying out that good old standby, the missionary position, the Heart Wedge added enough elevation to make wonderfully strong g-spot stimulation very easy. The two wings (for lack of a better word) of the heart accommodated my thighs easily and the firmness of the foam gave my ass nowhere else to go but up. In other words, the Heart Wedge performed well.

The Heart Wedge is very, very good, but it's not perfect. The tapered base can be felt in some positions (like the missionary). It's certainly not in the least bit uncomfortable, but it's noticeable. The narrowness of the base also makes it a bit tricky to position correctly under your back. It's not difficult to do, but it doesn't come as automatically as one might expect from a support pillow with a wider base (such as the Liberator Wedge).

More creative minds than mine will certainly find more to do with the Heart Wedge, but I found it useful as a prop to use when receiving oral sex. Raising one's buttocks off the bed allows more room for the giving partner to use their hands/fingers/other toys. If you position your neck on the pillow so your head is hanging over the edge (think of what you do when you get your hair washed at the stylist's), the Heart Wedge can also be used to get the long, open line required for deep throating a partner.

The options are really only limited by one's imagination. The Heart Wedge provides the tools and it's up to the user to decide how to make best use of them.

Love pillow special features:

Moisture-proof / Washable

Packaging:

Packaging is about as bare bones as you can imagine. You have the shipping box and you have the Heart Wedge inside. If you're planning on dressing this up as a gift, you'll have to look for other alternatives for packaging.

Not surprisingly given its size and shape, the Heart Wedge is neither discreet nor suitable for traveling.

Care and Maintenance:

The Heart Wedge can be stored as you would any pillow or cushion. Both the outer and the inner covers are removable and washable.