Sportsheets Do it game: spinner game - Adult game from Sportsheets

Product Details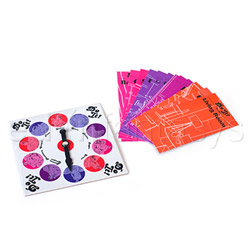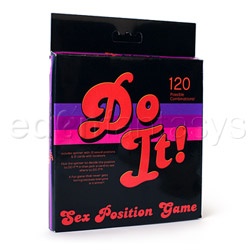 Summary:
This is a fun and easy, no-brainer game for the indecisive, the playful, the inexperienced, or for those who are just too horny to think for themselves. It's discreet, portable, self-explanatory, and offers over 120 possible combinations to keep you and your partner busy christening every room and outdoor area of your home.
Pros:
Inexpensive, self-explanatory, few pieces, sturdy enough for its purpose.
Cons:
Some locations or positions may not appeal to everyone.
Best use:
Purpose / Audience:

The "Do it" Sex Position Game is an inexpensive and portable game for two or more players that provides a fun way to break the ice when it comes to adding some variety to playtime or discovering new and exciting sexual positions, especially for the less experienced. By letting the game decide for you, it can add a little thrill to playtime. Take note though that no foreplay moves, such as kissing, petting, etc. are part of this game; it's all about coitus, both vaginal and anal.

It's best suited for newly formed couples who are just beginning to explore each other and could use some suggestions or for those who want to plan a special evening with an already established partner, because it offers plenty of ideas of where and how to do it. It would even be a nice addition to an adult-themed gift basket for a bride or groom to be.

Rules / Content:

The premise of "Do It" is incredibly simple: to have sex in the position the arrow lands on and then pick any card to find out where you have to perform the act. What it doesn't provide is a time limit on how long you have to do said act and you may just end up doing your own thing anyhow. At least have the courtesy to give your partner one turn of his/her own. Players can always spin again or redraw a card if the position or location is something either of them is not comfortable with. Not everyone enjoys anal nor would they want to perform it in the backyard! This game isn't about winning, it's about discovery. Have fun taking turns until you've exhausted the choices or until you are physically exhausted yourself!

Design:

The spinner board is a 6x6 inch sturdy piece of heavy duty cardboard on which 10 different sexual positions are illustrated in a circular pattern. At the center of the circle is a black, cardboard spinning needle, which spins freely. Each position shows a couple demonstrating the basic mechanics of the poses, which are as follows: plate, sitting, spoon, recline, doggie, screw, anal, reverse cowgirl, missionary, and cowgirl. Several are positions most are familiar with, although they may not have known the technical term for them prior to seeing this game, so it could be a helpful learning tool in that regard.

Then there are 12 location cards, which are made of 3x5 inch heavy-weight glossy paper. They are as follows: in the living room, in the car, in the backyard, in the bathroom, in the garage, in the shower, in the kitchen, on the sofa, on the balcony, on the dining table, in the laundry room, and in the bedroom.

Both the cards and the positions on the spinner board are divided in to 4 color groups, which mean nothing and are just present for visual appeal. It beats looking at a game with the same color throughout!

All the pieces tuck neatly in to a 6x6 inch, 1/4" wide box, and if you aren't a fan of the game or don't want to re-gift it, it can always be recycled in areas that accept all types of paper.

Weight:

0.2 lb

The set includes:

Spinner with 10 sexual positions and 12 cards with locations

Experience:

My partner and I thought the game was cute, but we're pretty experienced, so to us it was pretty boring. I could see how it might be exciting to new lovers or to someone who is more receptive to their partner making an effort to spice things up.