Sportsheets Do it sexting kit: female - Adult game from Sportsheets

Product Details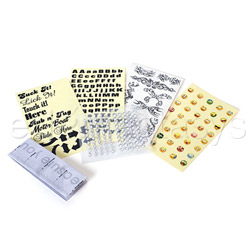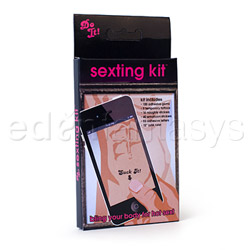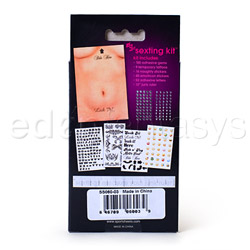 Summary:
Want a gag gift, then try sexting! It's the perfect gag gift for that cell phone fanatic. You know the type, always on the cell phone texting. Well now they can enter the world of sexting. Just remember, it's a joke and although they'll be delighted to receive it they'll be disappointed that it really isn't what it says it is.
Pros:
Gems are sweat proof!
Cons:
Tattoos do not transpose, stickers are not pre-cut, ruler is off
Best use:
Purpose / Audience:

The idea of a sexting kit is sexy but it has to be executed well. Poor craftsmanship and all out mistakes leaves a lot to be desired. If you wish to be a little adventurous with your cell phone sex sessions and don't mind obvious flaws you'll love the sexting kit. If you demand a good quality product look elsewhere.

Purpose: Adorn yourself with the sexting tattoos, stickers, and gems. Take a picture and send it to your lover. You can make yourself look pretty, sexy, or you can come complete with instructions stuck right to your body. Use the ruler to measure your mans penis and get an idea of just how effective his size really is.

Result: It's a gag gift, pure and simple. It's not meant to be used as a real game of sexting as the components are half finished or not functional.

Rules / Content:

OK, how do you play? Well that's a good question. Instructions aren't included. In fact, the tattoos do not have instructions. You're just given 100 adhesive gems, 9 temporary tattoos, 16 naughty stickers, 40 emoticon stickers, 52 letter stickers in upper and lower case (two of each letter), and a so called 12 inch junk ruler.

The rules? Make them up as you go along. Have your guy measure himself and send you the pic back. The ruler tells all. Adorn yourself with stickers, gems, and instructions to be provocative. If your lover is close by, have him or her come and get it as long as they follow the instructions stuck to your body. If they're far away, relish in this sexting session.

Design:

This is really where the game falls short. There is really only one functional component to the kit and that is the gems. Not only are they sparkly but they are sweat proof! That's right, if your sexting session turns into steamy lovemaking your gems won't come off until you want them to!

Everything else is a disappointment. The tattoos do not transpose well or at all to the skin and they must be cut out with scissors. All the stickers stick nicely but you must cut them out yourself. They are not pre-cut. This means that they look awkward when applied. Finally, the measure your junk ruler is off by about a 1/4 inch. Some men will complain about that.

Let's talk about the ruler. It goes from 1-12 inches and every inch has a saying. Starting at 1 and working our way up we have, you're in trouble, getting better, keep hoping, almost there, pretty close, about average, not bad, wow, this is gonna hurt, good god, and she is in trouble. The ruler is cardboard. Nothing sturdy. In fact, everything in this kit is flimsy and will not last long. The good news, it is travel friendly!

Weight:

0.1 lb

The set includes:

100 adhesive gems
9 temporary tattoos
16 naughty stickers
40 emoticon stickers
52 adhesive letters and a 12" Junk ruler

Experience:

I had high hopes for this. My boyfriend lives up in the hills away from cell reception so I just decided to adorn myself with everything and surprise him, in person, with it. I tried to put a cute little tattoo on my rear but it just wouldn't transpose however my fingers got part of it. I cut out a few stickers and placed them on my skin. They stuck nicely but just didn't look right. Then I put the gems around my belly button. I liked the way they looked and felt a little sexier.

My boyfriend measured himself and complained about the ruler the entire time. He has nothing to complain about but he noticed it was off.

In the end, this was tossed aside.